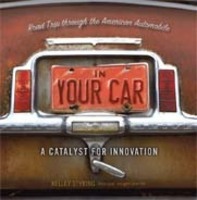 "Essentially, drivers' needs have changed, and automakers simply haven't kept up with them."
Newberg, OR (PRWEB) October 29, 2010
Americans may think we are what we drive, but according to a new book by a leading consumer researcher, we're actually just hamsters in an exercise ball, wheeling around in our own waste. Kelley Styring's"In Your Car: Road Trip through the American Automobile" chronicles her nationwide study of American drivers, our vehicles and what we carry along for the ride.
"The car isn't just a mode of transportation anymore," explains Styring. "It's a human habitat where we eat, sleep, work, and do a whole host of other things. Essentially, drivers' needs have changed, and automakers simply haven't kept up with them."
Cars desperately need an integrated trash management system.
"Living creates trash, and we're living in our vehicles like never before," says Styring. "Yet there's no place to put it, so it ends up on the floor, crammed in the pockets on the door or hidden under the seats. You wouldn't eat in a restaurant that looked like that, but we eat in our cars all the time."
Storage is another big need in vehicles. The cup holders she investigated rarely contained actual cups, as drivers compensated for the lack of places to put change, cell phones, iPods, keys and other small items.
Styring, a Procter & Gamble and Frito-Lay veteran whose firm InsightFarm now consults with Fortune 100 companies, conducted a 30-day, 5,800-mile cross-country odyssey, immersing her family in the automotive lifestyle while conducting a nationwide study of drivers, including in-depth examinations of autos in Portland, Los Angeles, Dallas, Atlanta, the New York City Metropolitan area, Detroit and Chicago.
It's not just automakers who find profitable innovation ideas in Styring's work. Her research sponsors included American Honda Motor Co., Inc. (which provided a brand-new, fully loaded Pilot for the journey) and four other blue-chip consumer product good companies. "In Your Car" identifies ways consumer product makers, fast food restaurants and even financial institutions can all improve their products, services and most importantly, their bottom line.
Styring found that the average driver carries 100 individual items in the car ranging from auto maintenance items to cosmetics to weapons. Not surprisingly, the top five items were Cell Phone, CDs, Purse, Tools and Groceries. She also found drivers keep things in a car that shouldn't be there, such as medicines and cosmetics that are damaged in the high temperatures of a summer day, or personal identification and financial information that belong in a more secure location. She learned that fast food chains are wasting money by giving out far, far too many napkins. A few of the more unusual items she unearthed included a single push-up bra insert, a half-eaten hamburger, an unused catheter bag and a tree growing out of the debris in a pick-up bed.
And just what kind of junk did she find in the trunk?
"The trunk is where things go to die," says Styring. "The most common reaction to the items I pulled out was, 'Oh my gosh, what is THAT doing in here?' "
Throughout "In Your Car: Road Trip through the American Automobile," Styring also serves up travelogue highlights of her family's experiences on the road and some thought-provoking innovation ideas. One of them is the Expandi-Car, a small two-passenger vehicle with modules that can be added for more passengers or cargo.
"Okay, it's weird, but sometimes the weirder ideas can reveal more reasonable innovation opportunity," says Styring. "I believe it's the innovator's role to make life both better and easier – and in the case of the automobile, maybe even safer, too."
For more information, go to http://www.insightfarm.com. In Your Car: Road Trip through the American Automobile is available through Amazon.com and Barnes&Noble.com.
# # #