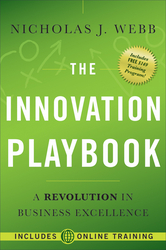 All Innovation Superstars possess the same organizational culture of openness and a customer centered focus
California (PRWEB) October 30, 2010
"The untold story of the past decade is that business investment activity was dead in the water … because innovation had slowed down," said Edmund S. Phelps, professor of political economy at Columbia University in a recent interview with CNBC. He went on to say that innovation in the U.S. has been stagnant for ten years.
In the global innovation race, China is quickly outpacing the U.S. and is now the leading exporter of high-tech manufactured goods, exporting $92 billion to the U.S. in 2008, while the U.S. returned a mere $12.6 billion.
The Innovation Playbook: A Revolution in Business Excellence (Wiley, 2010) by Nicholas J. Webb will put the U.S. back in the global game with stories from today's Innovation Superstars, lessons learned from historical business failures and successes, and real-world experience in the trenches of an American business.
Readers of The Innovation Playbook will learn:

Why the obsession with risk management is killing innovation
Common myths about innovation
The magical blend of customer focus, process and culture that creates Innovation Superstars
The crucial concept of net customer value and how to create it
Webb's "value strata" set of Standards of Excellence and how to achieve them
How to establish the "conduits of connectivity" necessary to provide true net customer value
"Nicholas Webb, in The Innovation Playbook http://www.theinnovationplaybook.com, offers core elements that all of us can incorporate and learn from to help build success," said Chris Thoen, Director of External Innovation & Knowledge Management for The Proctor & Gamble Company. "As our Chief Technology Officer Bruce Brown likes to say: 'The answer to the challenges we face is always the same. The answer is innovation.'"
Successful inventor and author of the bestselling book The Cost of Being Sick, Nicholas J. Webb is the founder and President of Lassen Innovation http://www.lasseninnovation.com, a full-service management and innovation consulting firm. As a Certified Management Consultant® he provides consulting services to Honeywell and ITW Allergan, as well as some of the country's top universities. Webb and his inventions have appeared on ABC, NBC, and Fox News. Webb is also the author of the upcoming book, The Digital Media Innovation Playbook. The book is at http://www.amazon.com/Innovation-Playbook-Revolution-Excellence-ebook/dp/product-description/B0041KLFMM
# # #