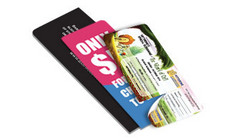 As customer touch points become increasingly important, businesses and nonprofits require a greater variety of marketing tools to effectively reach their diverse customer segments
Compton, CA (Vocus) October 29, 2010
Next Day Flyers is expanding its products in response to growing customer need. "As customer touch points become increasingly important, businesses and nonprofits require a greater variety of marketing tools to effectively reach their diverse customer segments," says Natalie Pietrzykowski, Director of Marketing for Next Day Flyers. "Our job is to provide the flexibility today's companies demand from their printed promotional materials."
One of many new products slated for release this year, Next Day Flyers' customizable event tickets provide greater flexibility through a large range of choices and customer options including size, perforation, numbering, color, rounded corners and bar coding. The broad range of customer choices is designed to permit the ultimate in customization. This allows event planners, companies, and nonprofits, to create personalized and strongly targeted event tickets which are both easy to monitor and effective promotional tools.
Event tickets are now available for promotions and events, and can be ordered with same business day printing. "Companies want the ability to make the selections they need to give them optimal leverage for games, events, and other sales and promotions," says Pietrzykowski. "Today, everyone wants the greatest value for their budget and there is no reason customers should have to compromise. That's why we offer the fastest speed, competitive pricing, and great flexibility in all our products," concludes Pietrzykowski.
About NextDayFlyers.com
Next Day Flyers is an online printing company that delivers top-quality printed marketing materials with the fastest turnaround time in the industry. They offer next business day printing, online ordering, free design templates, and specializes in full color printing of custom business cards, flyers, postcards, and brochures, as well as specialty die cuts and other marketing materials. Customers have easy access to price-friendly custom promotional and direct mail material. Next Day Flyers has a committed focus on building lasting customer relationships and strives to exceed customer expectations at every point of interaction.
Media Contacts:
Karen Daniels
310.747.3868
Natalie Pietrzykowski
310.747.3876
# # #