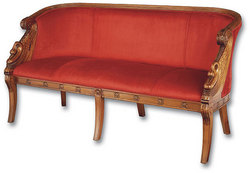 We realized that this sale would be a wonderful way to continue our outstanding relationship with our customers.
San Mateo, CA (PRWEB) October 29, 2010
San Mateo based furniture company Laurel Crown has announced a large sale that will take place over the Halloween weekend. The sale, which will run from October 29th to the 31st, will feature a wide variety of over 100 solid wood antique furniture reproductions offered at significant discounts.
This is the second consecutive discount event the company has held over the holiday weekend. Laurel Crown marketing executive Laurence Lok described his company's excitement for the upcoming sale: "After last year's success, we thought it would be wise to make this sale an annual event," Lok said.
Not only will 40% of Laurel Crown's inventory be offered at reduced rates this weekend, free shipping will also be offered on every item.
This will be the family-owned company's first sale since February. "Even when our inventory isn't on sale, our site offers huge discounts because it eliminates the retail middleman," Lok explained. "Any time our customers buy through us, they avoid the usual 100% markup of retail stores."
Still, Lok says his company wanted to throw an enticing Halloween sale as a way to thank their loyal customers.
"We had excellent response from our newsletter subscribers about how much they valued our last Halloween sale. By listening to their feedback, we realized that this would be a wonderful way to continue our outstanding relationship with our customers."
Lok explained future sales and specials will also be announced through Laurel Crown's newsletter. To register, visit the link at the bottom right of their home page.
About Laurel Crown:
Laurel Crown is a family-owned and operated furniture business, founded in 1990. The company prides itself on using only quality hardwoods, time-honored techniques, and hand-craftsmanship. Every piece of antique reproduction furniture is constructed with authentic style.
Laurel Crown Corp.
801 Woodside Way
San Mateo, CA 94401
# # #