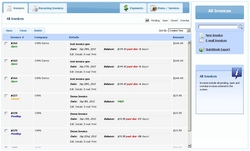 "To say that billing was a pain point for service providers would be a huge understatement.. Shockey Monkey eliminates billing as a cost center and makes MSPs competitive in the cloud." - Vlad Mazek, CEO
Orlando, FL (PRWEB) October 29, 2010
Since it's launch at CompTIA Breakaway in August, Shockey Monkey has attracted over 1,000 Managed Service Providers (MSPs), Value Added Resellers (VARs) and IT solution providers to the platform dedicated to simplifying the management and service delivery of an IT organization. As a freemium service supported by sponsors, Shockey Monkey's sole goal is to design a platform that MSPs have to use every day - and MSPs are the key to the development efforts.
Every other week all Shockey Monkey users are notified of the progress and are invited to vote on the features they want to see next. Accounting and service management were the most demanded features as they present the greatest pain point for MSPs and VARs alike.
Difficulties in Cloud Services Adoption among VARs and MSPs
"The primary reason Own Web Now Corp, a cloud services provider for MSPs, supported and funded the development of Shockey Monkey was to simplify the process of offering cloud solutions." claims Vlad Mazek, CEO of Own Web Now Corp and Shockey Monkey. "To say that billing was a pain point for service providers would be a huge understatement - we often heard from our partners that they would not offer cloud services directly because billing and accounting are such a huge cost center that they cannot remain competitive against Google and Microsoft. Shockey Monkey changes that."
Shockey Monkey upgrades are changing the landscape of competition by empowering MSPs and VARs to offer cloud solutions under their own brand, their own price and their own management system through tight integration of service provisioning, support and accounting. With Shockey Monkey, MSP's clients can login to the same portal they use for support requests and place orders for Exchange hosting, SharePoint, Web Hosting, Offsite Backups and soon other cloud solutions that integrate with Shockey Monkey.
Success On The Road
Shockey Monkey delivers a service that many MSPs and VARs have been waiting for. In less than three months Shockey Monkey has been to CompTIA Breakaway, CompTIA EMEA in London, ASCII Success Seminars in Orlando and Boston, MSPU as well as the latest SMB Nation event in Las Vegas. "Shockey Monkey was a huge success at SMB Nation, everyone wanted to know what all the hype was about and figure out what exactly the Monkey could do for them!" adds Stephanie Hasenour, marketing manager for Shockey Monkey. "We have received a tremendous amount of hype primarily because of the products simplicity - many service providers going to the cloud just don't have the time required to onboard to a highly complex vertical solution."
Partners Take
"This is great way to manage my invoices and effectively organize my business under one platform. I no longer have to switch from application to application to see how much business a customer is bringing and if they are to date. Overall, improving my time management absolutely free" is just one of many stories Anthony Fernandez, marketing manager for Shockey Monkey hears daily. "Our MSP and VAR partners are busy as the economy recovers and cloud service hype fuels their growth, we are constantly seeking feedback and suggestions on how to make their life easier and their business more profitable."
Overview of Shockey Monkey Accounting:
http://www.shockeymonkey.com/feature_accounting.php
Overview of Shockey Monkey Service Manager:
http://www.shockeymonkey.com/feature_service.php
More information about Shockey Monkey Accounting:
http://www.shockeymonkey.com/blog/2010/10/shockeymonkey-does-accounting-invoices-sync/
More information about Shockey Monkey Service Manager:
http://www.shockeymonkey.com/blog/2010/09/introducing-service-manager/
# # #