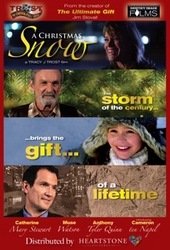 My favorite Christmas movie has been "White Christmas" for more decades than I want to admit. It has to now move over for "A Christmas Snow." Marlin Heckendorn
Richmond, TX (PRWEB) October 29, 2010
HeartStone Pictures announces that A Christmas Snow, a new film released by Trost Moving Pictures and Destiny Image Publishers, is quickly rising to the favorite list for family holiday movies. The films stars Muse Watson (NCIS), Catherine Mary Stewart (Weekend at Bernies), and Anthony Tyler Quinn (Boy Meets World).
Kathleen (Catherine Mary Stewart) has carried around the unwanted memory of her father abandoning her and her mother on Christmas Eve. For the past 30 years, she has blamed her mother for that night and refuses to celebrate Christmas in any fashion. Although she has tried to forget her past, it has not forgotten her, and in the days leading up to Christmas she finds herself stuck in her own home with two strangers, Sam (Muse Watson), a gentle older man Kathleen took in for the night and Lucy (Cameron ten Napel), the daughter of her soon to be fiance (Anthony Tyler Quinn). As the storm brings her face to face with the hurts of her past, she will have to choose one path; letting go and grabbing hold of a life changing forgiveness or continuing to carry her pain and bitterness with her.
5 of 5 stars: Amy Havelka, Wow! This movie really hit home. We have been having a lot of "things" going on with my family and watching this movie last night with my family, I couldn't help but cry. The message about forgiveness and love really made me realize my family needs to make things right with each other. The movie has a sense of humor that kept us laughing, and the overall message made us cuddle together and be happy with what we are blessed with in our life. A must see!
5 of 5 stars: Lisa Burns, I have had the opportunity to view A Christmas Snow twice, and absolutely recommend it! It's a wonderful story of forgiveness and redemption that will appeal to all ages!!!
Destiny Image Publishers has also released the novel A Christmas Snow, by author Jim Stovall, (creator of last years hit movie The Ultimate Gift) as well as the journal Restored. It is a collection of letters from the father to the daughter along with 11 steps to forgiveness and reconciliation.
The DVD, novel, and journal are now available at http://www.heartstonepictures.com and will be on sale at a special price until Nov. 15th.
HeartStone Pictures
281-342-1214
http://www.heartstonepictures.com
# # #