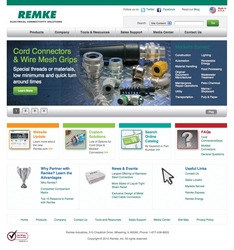 Wheeling, IL (PRWEB) October 30, 2010
Remke Industries recently launched a 'new' website. The new Remke.com is focused on our customers with expanded content, organization that is functional & practical, and a more user-friendly design with easier navigation and site-wide search capabilities.
The new Remke.com features:

Expanded product section covering all major product groups with direct links to more detailed information in the online catalog
Site-wide keyword and part number search capability
Frequently Asked Questions about products & services
Tools & Resources section including a Competitor Comparison Matrix, Purchasing Check Lists and Remke Top 10 list
New Custom Product Case Studies
'Genuine' Customer Testimonials
Feedback form
The New Remke.com features navigation at the top with drop-down menus that are easy to use with your mouse. On all products pages we have placed symbols that will help our visitors quickly & easily take the next step in getting more information.
Remke has also embraced the world of social media with our blog - Everything's Connected - and pages on both Facebook and Twitter. We promise to do our very best to be relevant, to answer your questions, to hear your ideas, listen to your comments and respond in a timely fashion.
For more information please visit us online at http://www.Remke.com. Or contact Remke Industries at 310 Chaddick Drive, Wheeling IL 60090, and call toll free 877-334-6941.
###