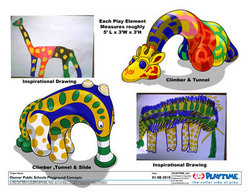 EXPERIENCE PLAYTIME took the DPS childrens' drawings and custom-designed, hand-sculpted and painted each piece to match each child's vision."
Englewood, CO (PRWEB) October 29, 2010
When Denver Public Schools Force Elementary School learned that they would be getting a completely new playground under the city's "Learning Landscapes" program, they asked students to help design it. The result not only offers a unique play experience, but it has instilled a rare sense of playground pride.
"In their minds, this is the playground they created," says Principal Lisa Mahannah. "I've even heard parents say that the playground holds special value to them and they are going to be vigilant to protect it from vandalism."
According to Mahannah, the old playground had been around since the 1960s and it did not even look fun, let alone provide many opportunities for imagination and creative play. Armed with bond money approved by voters for the Learning Landscapes program, the school asked students to draw whimsical, imaginary creatures that could be incorporated into the new playground's South America theme.
Amanda Castelli, a landscape architect with Design Concepts, the company that designed the new play area, says that three of the children's drawings were chosen and submitted to PLAYTIME LLC (http://www.experienceplaytime.com).
"We picked a giraffe, hippo and an anteater, but they're not literal," Ms. Castelli explains. "They are extremely colorful and they came straight out of a child's imagination!"
EXPERIENCE PLAYTIME then turned the kids' creations into reality.
"We took the drawings and custom-designed, hand-sculpted and painted each piece to match the child's vision," says David O'Niones, Vice President of PLAYTIME. "Every PLAYTIME play area is uniquely designed for the location, but this is the first time we actually collaborated with children to create the concepts."
The new play pieces were then installed by DesignScapes. DesignScapes Senior Project Manager Doug Gibbs says the play elements "really added something unique" to the outdoor playground.
"When a kid goes to a playground, he wants to have fun. Those things look fun!" says Gibbs. "The kids are all over them."
Castelli says that there were many drawings submitted by children and those that weren't turned into soft sculptures were painted on tiles and embedded in structures around the playground.
"The entire effect makes it more special. Students have taken ownership of their playground. It gave the playground a uniqueness that you won't find at another school."
Principal Mahannah says, "I've even seen more families on the playground after school. It's now a place that is helping to build community."
She adds, "It's like heaven!"
# # #