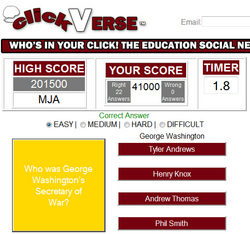 How encouraging would it be for students to learn U.S. History with the President of the United States or Italian with Kobe Bryant from the comforts of their own homes and classrooms?
Studio City, CA (PRWEB) October 30, 2010
Daniel and M.J. Allen announced to the public on October 28, 2010 the release of ClickVerse.com: The Education Social Network. With the use of virtual tutors and study halls as well as a timed testing system, ClickVerse is an innovative and free online education social network.
The social portion of the site is directed toward forming education clicks as well as battling other clicks and members for points. A click is a group of people on ClickVerse.com who share the same tests and study interests. They can add to the tests in the click to help everyone learn together. Once a test or subject matter is mastered individuals or clicks can battle others online. Battling entails challenging an opponent to take the same test or series of tests real-time to earn more points.
The real-time aspect of ClickVerse.com also makes it an interactive teacher-student (parent-child) system allowing teachers to teach, learn, and prepare tests as well as study with their students from anywhere around the world. Teachers can make tests using multiple choice, true and false, memory, and jumble words and definitions to learn and teach language, math, history, science, current affairs, popular culture, entertainment, and sports.
Because of the simplicity of the test making and test taking layout of ClickVerse.com the technology can be integrated into any curriculum. Founder Daniel L. Allen immediately sees a demand for this technology in programs such as President Barack Obama endorsed Change the Equation, the NBA Cares, and Time Warner's Connect a Million Minds campaign.
Not only can these pre-existing programs use ClickVerse.com to establish a standard testing and grading system, but, Daniel Allen states, "they can use notoriety to make learning fun. How encouraging would it be for students to learn U.S. History with the President of the United States or Italian with Kobe Bryant from the comforts of their own homes and classrooms?"
Though they know getting the word out will not be easy, ClickVerse creators believe that with the support of parents, teachers, celebrities, and media public announcements America can give children a real opportunity to learn and to extend that courtesy to other nations. "My concern is whether educators will embrace this technology and do their part in motivating others," says co-founder M.J. Allen. "We know that mentorship is essential to make learning a fun and encouraging social activity."
Aside from the social aspect of ClickVerse.com, its time-sensitive learning tools and study techniques can improve test scores, isolate and decrease learning disabilities, and inspire children to want to learn. It is an interactive smart system that, if embraced, the creators believe can change the direction of education in America and at the very least help improve the way in which students retain information.
The new online technology encourages children to stay in school not just for learning, but also for developing critical social skills. "I think the only reason kids act out in school is because they don't understand the work and can't relate," explains Daniel L. Allen. "If there was an easier way to improve their learning skills, children would run to school to share their knowledge with their class."
Advancing education has been a continued interest for both Daniel and M.J. Allen from the time they were students to today. They recently created Questkeys.com, a site that allows users to create and share universal bookmarks from any internet source, and ResearchKey.com, a site to collect and store up to twenty websites under one clickable key that retrieves and displays all the content found. Questkeys and ResearchKey share part of their mission with ClickVerse in wanting to provide faster, easier methods of learning and remembering information online.
However, while Questkeys and ResearchKey attach single words to large bodies of information, it is the challenge of ClickVerse.com to do the opposite: to attach a large body of information to a single subject or test. With the Education Social Network every minute counts. "There is always a timer running to challenge people every second and to push users to learn as much as they can each minute," explains M.J. Allen. "I know I wish I had had ClickVerse when I was in school."
###