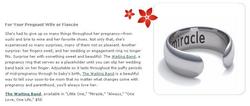 "Maternity isn't one-size-fits-all. Every woman has a unique journey into motherhood," explains Ms. Bloom, "New mothers deserve gifts as special as they are, to honor them at this important time."
Portland, OR (PRWEB) October 31, 2010
Dads, grandparents and friends of expecting and new moms have a new resource for gift ideas in the 2010 Holiday Gift Guide unveiled this week at Maternitique, a national online maternity boutique specializing in safe, natural products to support new mothers. Suggestions fall into three categories: Gifts for Pregnant Moms, Gifts for New Moms, and New Baby Gifts. Each of the items has been hand-selected by Maternitique founder and CEO Tara M. Bloom to ensure the highest quality, value and delight for the deserving new mother.
Within each of the three categories of gift suggestions, Ms. Bloom has shared her personal explanations for why she's picked the gift and for whom it's most appropriate. "For the 'I'm-Finally-Pregnant!' Mom," for example, Ms. Bloom points out that nearly 1 in 8 women today experience difficulty conceiving or other fertility complications. For these pregnant mothers, she recommends a pregnancy journal, to support them in preserving and celebrating their longed-for achievement.
"Maternity isn't one-size-fits-all. Every woman has a unique journey into motherhood," explains Ms. Bloom, "New mothers deserve gifts as special as they are, to honor them at this important time."
Ms. Bloom notes that when it comes to buying for a new pregnancy and a new baby, all gift-givers want the best, but not everyone feels confident in knowing what constitutes "the best." New fathers and grandparents, in particular, may find it overwhelming to sort through the myriad options available for pregnancy, postpartum and new baby gifts.
In this economy and with recent concerns about pesticide exposure, phthalates such as BPA and other health concerns for new babies, gift givers are being more selective. Today, it's especially important to choose a gift for a new mother that she'll use, enjoy and which will make her feel special—and confident that her baby's health is protected. That's where expert advice comes in.
"We want to show that Maternitique is the place to find the best in safe products for a healthy, beautiful pregnancy," says Ms. Bloom. "This gift guide allows us to show new parents the difference between our gift selection and those offered by big box retailers."
About Maternitique
Maternitique helps moms-to-be experience the natural beauty of motherhood. Founded in 2007 by a Portland, Oregon mom concerned about toxic ingredients affecting both fetal and environmental health, Maternitique is now the go-to destination for women from Park Avenue to Beverly Hills seeking the finest in safe, natural maternity. For more information, download the press kit at http://www.maternitique.com/press.php.
###