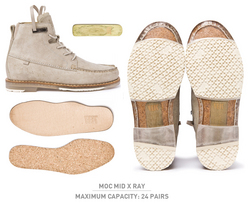 No middlemen. No artificial price inflation
New York, NY (PRWEB) October 30, 2010
The Moc Mid X Ray is built on a transparent sole, which highlights the custom FEIT Hand Sewn Good Year construction, as well as the shoe's internal components. The transparent brings 3 major internal components into plain view – the bamboo shank, cork foot bed and thread weave.
The natural bamboo shank used in the mid foot provides strength and support where it is most needed. The cork foot bed is an all-natural, lightweight material used for absorption and flexibility. The thread weave can be seen traveling in and out, around the printer of the sole. Each stitch is hand sewn, joining the upper the sole. This technique provides maximum strength, flexibility and breathability. It is an age-old footwear construction greatly lost in footwear today, replaced, unfortunately, by cheaper cemented constructions.
The construction of the Moc Mid X Ray allows for the soles of your shoes to be replaced if required.
Pre-order now at feitdirect.com to guarantee your pair. All pre-orders receive 10% off and free shipping worldwide.
###