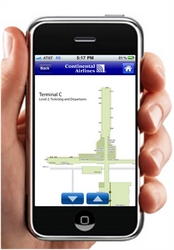 Seattle, WA (PRWEB) October 29, 2010
Point Inside™, Inc. (http://www.pointinside.com) today announced that Continental Airlines has licensed its airport map data to include in its new, free iPhone® app. Continental Airlines customers will have free, unlimited access to interactive, searchable maps of over 75 airports (and growing), all within the context of Continental's newly-released mobile app. Point Inside's platform provides Continental Airlines airport-specific content, adding the critical context of location to each item or point of interest. This marrying of 'what' to 'where' enables app users to quickly find what they need at the airport, whether that's finding their departing gate, the nearest restroom, determining what restaurants are on the way to their connecting gate, or making their way to an airport lounge.
"At Continental, we are constantly looking for new ways to make travel more convenient for our customers. When we looked at creating a mobile app, adding a core convenience feature like searchable, interactive airport maps seemed obvious," said Jared Miller, Continental's managing director of self-service and emerging technology. "We're pleased to be the first airline to include Point Inside's airport smart maps into our mobile app to help travelers navigate their airports right from their smartphones."
"Having Continental as a licensee is further evidence our Destination Content Platform is ready for prime time," said Josh Marti, CEO of Point Inside. "We've received a tremendous amount of interest in the platform from companies in a variety of industries, but they all have one thing in common: they want to deliver a premium experience to their customers by providing helpful, context-relevant information on demand, whenever and wherever the customer wants it. We're very excited Continental chose Point Inside as a partner, and we're looking forward to providing even more features for their app in the near future, as we continue to enhance the capabilities of the platform."
This latest announcement from Point Inside follows on the heels of the recent announcement of a relationship between Point Inside and Meijer (a 196-store supercenter retail chain), who chose Point Inside's platform to power its "Meijer Find-it" iPhone and Android app. The Meijer Find-it app allows shoppers to see the locations of 250,000+ inventory items and weekly sales right on an interior store map on their smartphones.
Application developers looking to build applications that include destination maps and content for over 800 shopping centers and airports, utilizing a robust and easy to use Application Programming Interface (API) can learn more at http://www.pointinside.com. Continental's app is available for free for iPhone and iPod touch in the iTunes App Store at http://www.itunes.com/appstore.
About Point Inside, Inc.
Point Inside™, Inc. has developed a mobile destination content platform that enables third parties to leverage Point Inside's maps, point of interest database and search capabilities. The platform is available for license, and licensees can integrate their own detailed, value-added information on top of Point Inside maps. Point Inside also offers consumers a free mobile application, "Point Inside Maps for Airports and Malls", on iOS and Android devices. Users can quickly find stores, gates, kiosks, restrooms, elevators, escalators, and other guest services in over 800 malls and airports. Founded in 2008 and based just outside of Seattle, Washington, the company is led by a team of executives with decades of experience developing mobile and Location Based Services (LBS) applications for companies such as Amazon, AT&T, Boeing, Qualcomm, and RealNetworks. Additional details can be found at: http://www.pointinside.com; Facebook: http://www.facebook.com/PointInside; Twitter: http://www.twitter.com/PointInside.
For more information, contact:
Emily Marshall, Point Inside, Inc. at emily(at)pointinside(dot)com or via mobile at 206-660-3304.
# # #