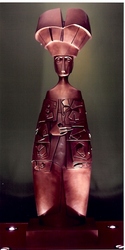 Humans evaporate, but artwork will stand forever. (Cundo Bermudez 1914-2008)
Miami, FL (PRWEB) October 29, 2010
10 A.M. October 29th, 2010, Mr. Conrado Basulto, President of the Cundo Bermudez Museum & Gallery, Inc. will meet with Mayor Tomas P. Regalado to dedicate "Flora la Recogedora de Sueños," to the City of Miami at City Hall. The 20-foot high bronze sculpture represents "the mosaic" of Cuban Master Cundo Bermudez's body of work, and his love of Miami, South Florida.
Cundo Bermudez was always grateful for the hospitality that he received when he settled in Miami, Florida, U.S.A. Being an immigrant, he achieved his dreams and with gratitude he created "Flora la Recogedora de Sueños." The bronze sculpture is a symbol of Hope for all immigrants, an inspiration of the love of the City of Miami and the love that Miami exudes to all that come here and makes us feel we are home.
In Flora, Cundo Bermudez saw a culmination of all his paintings and he was very surprised when it resulted in a sculpture rather than a painting. "Flora just came to say, I'm here to stay." "The meaning of this piece is very touching because it reveals our humanity. Despite all the problems in life, people are always hopeful and it is reflected in the artwork named Flora la Recogedora de Sueños, where dreams will be kept to see if they come true." (Cundo Bermudez 1914-2008)
On October 29, 2010, the 2nd anniversary of being the recipient of the first FAMA Magazine Award for his contribution and dedication to Latin American Art; upon receipt of the award, the culmination of his illustrious career, he died 5 hours later that day. On this auspicious 2nd anniversary of his death, the Cundo Bermudez Museum & Gallery will dedicate his final masterpiece, "Flora la Recogedora de Sueños" to the city he loves, Miami, FL.
# # #