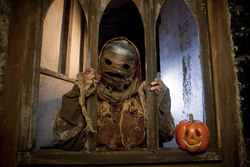 London, UK (PRWEB) October 30, 2010
This Halloween, The London Dungeon promises a whole host of frightening fun as evil is unleashed on The Dungeon for a special 'Helloween' event.
As the original scare attraction in the UK, The London Dungeon is a great place to visit if you are looking for London Halloween activities. Be prepared to feel your blood freeze, as The London Dungeon unveils its most terrifying "Helloween" event ever, including Jack O'Lantern and the echoing 'Sounds of Hell'. Stingy Jack, damned by the devil and made to walk in darkness for all eternity with his turnip lantern, will be stalking the dark hellish corridors of the gruesome attraction and could appear at any moment.
Visitors who survive Jack's lair may wish they hadn't, as the gates of hell gape open to receive them, with an infamous recording of the 'Sounds of Hell' echoing throughout the Dungeon's mirrored labyrinth. The eerie screams of tortured souls, (which were allegedly discovered by Siberian scientists when they drilled down 14.4 kilometres deep under the Earth's crust) will have guests feeling the flames of hell and screaming for a reprieve from the fiery maze.
As one of the most popular things to do in London, The London Dungeon features fourteen twisted experiences from Jack the Ripper to, Bloody Mary, and two chilling rides, there's plenty of horrific goings on to explore this Halloween. Situated in the dark heart of the Capital, just a stone's throw away from the River Thames, The London Dungeon is open seven days a week with the special 'Helloween' event running from Friday 15th – Sunday 31st October 2010.
About The London Dungeon
The London Dungeon is part of the Merlin Entertainments Group and is one of the world's most infamous London attractions, where for over 30 years London's darkest history has been brought back to life with a grisly mixture of live actors, special effects and two hair-raising rides.
The Merlin Entertainments Group is the leading name in location based, family entertainment, which has seen the most successful and dynamic growth of any company in the sector over the last five years. The world's second largest visitor attraction operator, Merlin has 57 attractions, 6 hotels and 2 holiday villages in 13 countries, across 3 continents. Merlin Entertainments operates the following attractions – SEA LIFE including the SEA LIFE London Aquarium, Madame Tussauds, LEGOLAND, the Merlin Entertainments London Eye, Dungeons, Gardaland, LEGOLAND Discovery Centres, Alton Towers Resort, Warwick Castle, THORPE PARK, Chessington World of Adventures & Zoo, Heide Park, and Earth Explorer.
Contact information:
Simon Thomas/Karen Abrams simon(at)freerange(dot)eu 020 7402 9966
For further information, pictures or a request to visit the London Dungeon, contact Anna Robertson: Marketing & PR Executive – London Dungeon 0207 234 8682/ 07540 424 772/ anna.robertson(at)merlinentertainments(dot)biz for info on sister Dungeons Edinburgh, York, Amsterdam and Hamburg please contact: Ellie Cowley: PR Officer –Dungeons 01202 440066/ 07922 591684/ellie.cowley(at)merlinentertainments(dot)biz
###