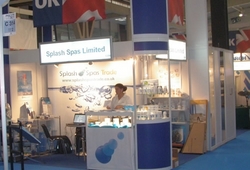 We saw a gap in the European market for cheaper, more accessible hot tub chemicals and accessories
(PRWEB) October 31, 2010
Splash Spas was the first UK company to establish a dedicated online store for the supply of hot tub chemicals and spa accessories to UK based consumers. It has now taken the lead again by expanding its mail order operations to include an efficient courier delivery of hazardous chemicals to the European market. This innovative service now enables Splash Spas to provide a one-stop shop for all hot tub chemicals and accessories to its European dealers and retail customers alike.
Mainland Europe was a target market for expansion by Splash Spas since its UK operation began in 2004. In 2008, the company became involved with a UK Government initiative that provided assistance to companies looking to expand business beyond the UK borders. This support was reflected by the attendance of Splash Spas at the Piscina Exhibition in Barcelona in Autumn 2009 where the company's full range of chemicals and spa accessories was showcased.
Andre Knight, a director of Splash Spas, confirmed that he received considerable interest for the European expansion project from European dealers at the show, saying, "The story from the dealers attending the show seemed to be that the European hot tub market was still dominated by the big brand manufacturers who charged excessive premiums on the chemicals and accessories that their customers were reluctant to pay. There was therefore a definite gap in the market for a cheaper, online solution for sales of hot tub consumable products".
Following this market analysis, Splash Spas tackled the complex regulations associated with shipping hazardous hot tub chemicals abroad and has now successfully negotiated a reasonably priced and quality courier service with its delivery provider. The result of its efforts is the ability to now be able to service all the hot tub chemicals and accessories requirements of its existing European customer base and to reach out to new customers from Portugal to Norway and beyond.
Furthermore, and in response to the demand from European customers who are seeking a chlorine-free alternative to the traditional chlorine-based hot tub treatments, the company has also been able to introduce to the European market its revolutionary own brand spa treatment, ECO One, which relies on a natural enzyme sanitising system. This complements its full range of competitively priced own brand chemicals alongside other well-known hot tub brand chemicals.
About Splash Spas Ltd:
Splash Spas was the UK's first online hot tub chemicals and accessories company. Formed in 2004, the company operates out of premises near Alton, Hampshire. The company is a fully ISIS and IDIS accredited on-line retailer with over 20,000 customers throughout the UK and Europe.
For more information, call Splash Spas at +44 (0)1420 520030, email apknight (at) splashspas (dot) co.uk, or visit http://www.splashspas.co.uk, http://www.hottubsuk.co.uk & http://www.splashspastrade.co.uk.
###