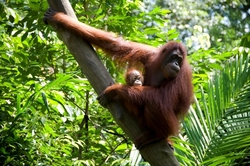 I applaud businesses for committing to changing their palm oil supplies to 100 per cent sustainable, but the actual palm oil that goes into their products is a separate issue
(PRWeb UK) October 30, 2010
The rain forest does not have time to wait for businesses to switch to sustainable palm oil in 2015 – the issue is so urgent that corporations must make an immediate effort to change the industry.
That's the message GreenPalm's Bob Norman is sending to manufacturers and retailers ahead of RT8, the annual convention of the Roundtable on Sustainable Palm Oil (RSPO), in Jakarta next week.
Referring to manufacturers' and retailers' widely publicised plans to convert to sustainable palm oil within the next five years, Norman insists businesses must immediately work together to help change the palm oil industry by giving producers in Indonesia and Malaysia an incentive to work sustainably. This, in turn, will also ensure more supplies of sustainable material will be available by 2015.
One million certificates have been traded via the GreenPalm programme, earning over $9m in premiums for producers working within the rules of the RSPO, supported by many major retailers and manufacturers. Businesses off-set their use of palm oil by funding the sustainable production of an equivalent volume, whether or not that certified oil reaches their products.
But, says Norman, GreenPalm's General Manager, change is not happening fast enough to ensure the industry itself improves.
"I applaud businesses for committing to changing their palm oil supplies to 100 per cent sustainable, but the actual palm oil that goes into their products is a separate issue," says Norman.
"It takes years to change an international supply chain to carry fully certified and segregated sustainable palm oil, but the rain forest, the people who live there and the orang-utans can't wait that long.
"We have to speed up the process – make sustainable practices the norm, by giving palm oil producers a commercial reason to change right now, not in 2015. Forget about who's using what in which products – the real issue here is who's using their buying power to support sustainable production at source, where the real industry changes are taking place.
"It comes down to whether a company wants to tackle the problems in the palm oil industry, or just look after its own brand reputation. A family forced out of their home for an illegal plantation won't care which brand of cereal bar contains sustainable palm oil and which doesn't. That's where the issue lies – at the heart of the palm oil industry, where the damage is still being done.
"It's time for more manufacturers and retailers to show they mean it, and put their money where their CSR statements are."
GreenPalm, which is endorsed by the Roundtable on Sustainable Palm Oil, was created to help tackle the environmental and social problems linked with the palm oil industry, such as destruction of rain forest and natural habitats, high carbon dioxide emissions and the displacement of indigenous people.
Since GreenPalm began trading certificates in September 2008, the programme has earned support from international names including Unilever, Cargill, Carrefour, Marks & Spencer, Cadbury, Danisco, Lidl, Burton's Foods, Seventh Generation, Findus, New Britain Palm Oil, Asda, Boots, Tesco and Waitrose, among many other members. The GreenPalm system also enables small businesses, with less control over and financial power to change international supply chains, to support sustainable palm oil production.
Marks & Spencer famously pledged to off-set its entire use of palm oil with GreenPalm certificates, until a fully segregated and certified supply of sustainable palm oil became available. Unilever is GreenPalm's biggest buyer, securing certificates for its use in brands created throughout Europe.
The WWF described GreenPalm as an interim measure for businesses converting to sustainable palm oil use, and its recent Palm Oil Buyers Scorecard included several GreenPalm members in its list of most responsible corporate palm oil users.
Bob Norman and GreenPalm will attend RT8, the annual meeting of the Roundtable on Sustainable Palm Oil, from 8-11 November 2010 in Jakarta, Indonesia.
# # #