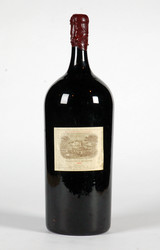 (PRWeb UK) October 29, 2010
Stephen Williams, founder of The Antique Wine Company, comments from Hong Kong on Sotheby's Chateau Lafite Rothschild auction and discusses its impact upon his forthcoming sale of an exclusive 19th Century Chateau Lafite Rothschild Collection.
"The record sales achieved at Sotheby's Chateau Lafite Rothschild auction in Hong Kong pays tribute to the ever escalating prices Chateau Lafite can command. We expected the 19th century bottles to achieve bids of approximately 100,000 HKD but to exceed the auctioneer's high estimate tenfold and make $1million is astonishing. These wines are of impeccable provenance, and it makes me highly confident that the equally precious items we are about to put on the market, such as our Giant Imperial of the 1899, will be snapped up by an Asian buyer.
Any "value minded" wine collector should go immediately to their cellar, count their cases of Lafite, and send us instructions to sell right away. Chateau Lafite Rothschild has become an icon in China. However, wine consumers in this market have an enormous appetite to learn and, before long, I am sure we will see other Bordeaux Grand Crus taking some of the limelight. This might just soften the exponential curve on Chateau Lafite's value.
The Chinese market continues to be driven by some rather unconventional factors. For example the price of Chateau Lafite Rothschild 2008 rocketed by 20% overnight this week when it was announced that the bottles would be etched with the Chinese figure eight, with this vintage boasting a staggering 500% rise in value compared to 18 months ago. What other investment can provide returns like this? Who would have believed that 20 years ago the Rothschilds, who own and manage Chateau Lafite, would be such marketing geniuses: it is just another credit to this family's impeccable 300-year track record spanning finance, wine and commerce.
I was especially interested to see Sotheby's accelerate the 1899 offering through its high estimate of 65,000 Hong Kong dollars to a stellar one million Hong Kong dollars. When the world is saturated with young wine, there is something even more irresistible about the collecting and enjoyment of older vintages. With this in mind, we are proud to announce the sale of an exclusive collection of 19th Century Chateau Lafite Rothschild, covering the vintages 1873, 1881, 1882, 1888, 1890 and, rarest of them all, an Imperial of 1899 itself worth US$289,800 (HKD 4,419,620).
In impeccable condition and with flawless provenance*, this is a remarkable selection of bottles, each of which is at least 111 years old. This rarest of Chateau Lafite collections is unavailable at auction but is offered by The Antique Wine Company by private sale for US$933,800 (HKD 7,120,500)**. The scarcity of these wines makes them a Chateau Lafite collector's dream and, with no doubt, we predict that they will be purchased by a serious collector or Chateau Lafite enthusiast in Asia."
For further information, images and comment from Stephen Williams, please contact Julie Turner, PR Director, The Antique Wine Company at Juliet(at)antique-wine(dot)com or telephone 00 33 (0)6 25 28 72 82
*The collection includes copies of correspondence from Yves Le Cannu, cellar master at Chateau Lafite Rothschild during the decades 1970/1980, describing the evaluation of these magnificent wines, which were then contained in the cellar of the restaurant Le Coq Hardy, Bourgival (Versailles) France.
** Individual pricing on each bottle in the collection is as follows:
1873 LafiteRothschild 1 x 75cl $64,400 / HKD 491,070
1881 LafiteRothschild 1 x 75cl $64,400 / HKD 491,070
1882 LafiteRothschild 1 x 75cl $64,400 / HKD 491,070
1888 LafiteRothschild 1 x 75cl $96,600 / HKD 736,610
1890 LafiteRothschild 1 x 75cl $64,400 / HKD 491,070
1899 LafiteRothschild 1 x 600cl $289,800 / HKD 4,419,620
Total Collection - $933,800 / HKD 7,120,500
###