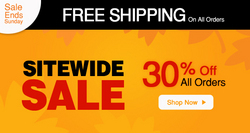 Buy any rug, no restrictions, and get the rug pad free, plus free shipping!
Mesa, AZ (PRWEB) October 29, 2010
SelectRugs.com is the fastest growing on-line retailer of quality area rugs for a reason. Their service, quality, and price can't be beat.
Area rugs come in so many varieties. There are round rugs, rectangular rugs, and square rugs. Area rugs are made with a multitude of materials, some have fringes, and there are color choices and style choices. This weekend you can become the proud owner of any one of these rugs at an unbeatable price.
First of all, Select Rugs is offering 30% off all rugs, site-wide, making every rug a discount rug. In addition, there is a great selection of clearance rugs at discounts ranging from 40% ~ 75% off original pricing.
Next, there is a selection of free offerings on some of the top brands in area rugs. Sphinx rugs are offering a 3 for 1 sale, which is on top of the 40% off. The 3 free items are meaningful and useful offerings. Simply buy any rug, 8' x 10' or larger, and get a free runner, a free pad, and free shipping. Runners are a really cool accent to your area rug. A runner can be used as a hallway rug, or a runner can be used as an area rug to go behind a sofa, or to sit under an entryway console. Rug pads are essential to adding longevity to an area rug. Rug pads cushion the feel of the rug, allow the fibers of the rug to breathe, and keep your area rug in place. Free shipping is huge. The cost to ship an 8' x 10' rug is not cheap.
Buy any rug, no restrictions, and get the rug pad free, plus free shipping. That's the incredible offering that can be found at Select Rugs this weekend on leading area rug maker, Shaw Living. Again, that is any size, any shape, any material, and any style Shaw area rug!
Safavieh rugs, another leading rug brand, and a maker of traditional area rugs and contemporary area rugs, also is offering a free rug pad and free shipping. Their only restriction is that you purchase a rug that is 4' x 6' or larger.
Area rugs do wonders to give a room a new look, to warm the floor in the cold of winter, and to define areas in an open space. This weekend is a great time to go ahead and make that rug purchase, and to make it at SelectRugs.com.
###