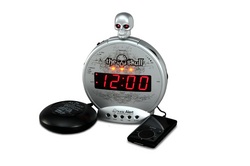 Troy, MI (Vocus) October 29, 2010
Sonic Alert, a developer of specialized hearing solutions and the Sonic Boom clock line, has announced the availability of its newest alarm clock for those who sleep like the dead. "The Skull" (SBS550bc) from Sonic Alert has an extra loud 113 screaming decibels of sound, making it the loudest clock on the market today. It also features bright red flashing eye sockets, flashing orange alert lights, and a bone-crushing 12-V bed shaker that can't be ignored. Once users recover from the shock, they can calm themselves down by turning up the music with the included MP3 player input.
The Skull alarm has adjustable tone and volume control, and comes with a battery backup, all for $46.95 (plus shipping and handling). And, shipping occurs within one business day of ordering.
The Skull is the newest addition to the Sonic Boom clock lineup from Sonic Alert, which offers styles for everyone from college students (Sonic Bomb) to tweens (Sonic Sweetheart) to seniors (Sonic Analog) and more.
Sonic Boom Alarm Clocks have been ranked as one of the best overall alarm clocks by the Good Housekeeping Research Institute To see the complete Sonic Alert clock line-up, visit http://www.sonicalert.com/products-alarm-clocks-all.html where there are also videos of the clocks in action.
Sonic Alert, the producer of the Sonic Boom alarm clock line, is a privately-owned company. It produces about 100,000 clocks annually as well as serving the hard-of-hearing market with door bell, telephone and sound signalers; and amplified telephones, neck loops and listening devices. Products can be bought directly or through a network of distributors.
###