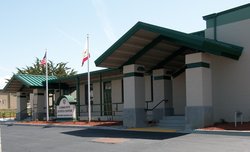 The affiliation between Monterey College of Law and Alliant International University will open up opportunities for joint-degree programs, on-line courses, and international law programs.
San Francisco, CA (PRWEB) October 29, 2010
Alliant International University and Monterey College of Law announced today that the Boards of Trustees of both not-for-profit institutions have approved a formal affiliation agreement to academically combine the two highly respected graduate programs. As an affiliate of Alliant International University, the law school will remain a separate not-for-profit college. However, the law school's degree programs, including the J.D., M.L.S., and LL.M. programs will be offered as part of the graduate programs of Alliant.
The law school will continue to offer courses at its campus and classrooms in Monterey and Santa Cruz. Alliant has campuses in San Francisco, Fresno, Irvine, Los Angeles, Sacramento, and San Diego. It also has programs in three international locations in Hong Kong, Tokyo, and Mexico City.
The affiliation agreement is anticipated to be in effect for the Fall 2011 Semester but will not be implemented until it receives approval from the accrediting agencies that oversee the two institutions, including the State Bar of California Committee of Bar Examiners, the Western Association of Schools and Colleges (WASC), and the U.S. Department of Education.
Alliant is an accredited graduate institution that has a long history of offering professional doctoral degrees including the Doctor of Philosophy (PhD), Doctor of Psychology (PsyD), Doctor of Education (EdD), and the Doctor of Business Administration (DBA). In addition, through its recent merger with another California-accredited law school, San Francisco Law School, Alliant acquired the institutional experience of the oldest evening law school program in the western United States, with a Doctor of Jurisprudence (JD) program dating back over 100 years.
Subject to approval by WASC and the United States Department of Education, the law school will become eligible to offer federal student financial aid programs. The law school has been accredited by the Committee of Bar Examiners of the State Bar of California since 1981. However, this will be the first time in the almost 40-year history of the law school that its students will be eligible for assistance through federal student loan programs.
"Selecting partners is never an exact science," observed Mitchel Winick, President and Dean of the law school. "We were looking for a partner institution that not only shared our commitment to high professional education standards, but who understood our obligation to the community."
The law school was founded almost four decades ago as an opportunity law school to provide access to legal education for individuals who might otherwise be marginalized, whether because of geographic location, socioeconomic status, or the need to remain employed in order to afford a professional degree. "In Alliant, we found an educational partner that shares these values and has applied them successfully in their other professional degree programs," said Winick.
"The affiliation with Alliant will also open up opportunities for joint-degree programs, on-line courses, and international law programs," said Stephanie Hulsey, Chair of the MCL Board of Trustees. "Looking forward, we realized that without an affiliation with a larger university, we would not be in a position to provide these resources," said Hulsey.
"The affiliation with the law school strengthens Alliant's core mission to prepare graduate students for professional careers of service and leadership," said Geoffrey Cox, President of Alliant. "But it is more than just an opportunity to add a respected graduate school program to our family of schools. As we got to know the law school, we discovered an entire community supporting quality professional education. The alumni, faculty, administration, trustees, students, local lawyers and judges, and other higher educational institutions are working collaboratively to provide a unique educational environment along the central coast," observed Cox. "Alliant looks forward to supporting the growth of the law school and the possibility of offering additional graduate education programs for this vibrant community."
Alliant was formed in 2001 by the combination of the California School of Professional Psychology, originally founded in 1969 and the United States International University, originally founded in 1952. The affiliation with Monterey College of Law provides a second law school location following Alliant's merger with San Francisco Law School in 2009. Alliant currently has approximately 4,300 current students and more than 30,000 alumni.
The law school is also becoming known as an innovative leader in technology and environmental sustainability. The school is the first law school in the US to adopt iPads as an integral part of the law school curriculum. It is also considered one of the "greenest" law schools in the U.S., opening its new Platinum LEED Community Justice Center this past April. It is only the second law school in the U.S. to achieve Platinum LEED Certification, the highest standard for sustainable engineering and environmental design.
"This spirit of innovation fits well within the culture of Alliant," said Cox. "Our legacy institutions have a rich history of being innovative, non-traditional, and experimental. I expect the law school to feel right at home within the Alliant family of professional schools."
###