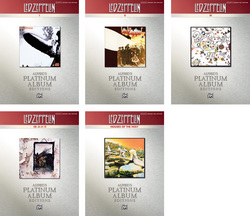 These are all completely new transcriptions, done by a team of 11 editors and transcribers spanning Alfred, Music Sales, and Guitar World
Los Angeles, CA (Vocus) October 29, 2010
Alfred Music Publishing, the official print publisher of Led Zeppelin, is proud to present new Platinum Album Edition songbooks for the first five of the band's classic studio recordings, authentically transcribed for guitar in both music notation and TAB.
The Led Zeppelin Platinum Album Edition songbooks draw from more than 30 years of documentation, interviews, and recorded footage to deliver unprecedented accuracy and insight into the guitar style of Jimmy Page, transcribed for guitar in both music notation and TAB. With vintage Zeppelin photographs and a historical foreword by Guitar World magazine's editor-in-chief, Brad Tolinski, each volume is a true collectible every fan must own.
"These are all completely new transcriptions, done by a team of 11 editors and transcribers spanning Alfred, Music Sales, and Guitar World," says Aaron Stang, Alfred Pop Guitar Editor. "All these editors and transcribers (not just guitarists, but keys, bass, and drum transcribers as well) were able to review and comment on each others' work until we arrived at consensus on everything."
Released in 1969, Led Zeppelin's self-titled first album, now known as Led Zeppelin I, single-handedly established the concepts of "album-rock" and "album-rock radio." No singles were issued, and none of the songs received airplay on typical "hits-driven" radio. Instead, a new type of rock radio station emerged; one that played many tracks from albums—even entire album sides, instead of just the singles. Led Zeppelin was the first to fully benefit from this new type of radio acceptance. This album contains classic rock staples such as "Communication Breakdown" and "Dazed and Confused" and spawned the band's seemingly overnight success. Titles: Good Times Bad Times * Babe I'm Gonna Leave You * You Shook Me * Dazed and Confused * Your Time Is Gonna Come * Black Mountain Side * Communication Breakdown * I Can't Quit You Baby * How Many More Times.
Recorded while the band was on tour promoting their first album, Led Zeppelin II was an even bigger success and featured the heavy rock anthem "Whole Lotta Love." Titles: Whole Lotta Love * What Is and What Should Never Be * The Lemon Song * Thank You * Heartbreaker * Living Loving Maid (She's Just a Woman) * Ramble On * Moby Dick * Bring It on Home.
Released in 1970, Led Zeppelin III explored the band's acoustic folk and Celtic influences and was the first album to fully realize Plant and Page's dream of fusing blues, heavy rock and folk music. This album contains classics like "Immigrant Song" and "Since I've Been Loving You." Titles: Immigrant Song * Friends * Celebration Day * Since I've Been Loving You * Out on the Tiles * Gallows Pole * Tangerine * That's the Way * Bron-Y-Aur Stomp * Hats Off To (Roy) Harper.
Perhaps best known for its hit "Stairway to Heaven" (well over 3 million airplays and the best selling piece of sheet music in history) the fourth album from Led Zeppelin (untitled but usually referred to as Led Zeppelin IV) remains a favorite of classic rock fans of all generations. Rolling Stone magazine has placed it on its list of the 500 greatest albums of all time. Titles: Black Dog * Rock and Roll * The Battle of Evermore * Stairway to Heaven * Misty Mountain Hop * Four Sticks * Going to California * When the Levee Breaks.
Emboldened by the success of Led Zeppelin IV and the classic "Stairway to Heaven," Led Zeppelin: Houses of the Holy marked a broad stylistic expansion by Britain's pre-eminent band of the '70s exploring deeper into their folk roots and expanding their harmonic and rhythmic concepts. Titles: The Song Remains the Same * The Rain Song * Over the Hills and Far Away * The Crunge * Dancing Days * D'Yer Mak'er * No Quarter * The Ocean.
The Led Zeppelin Platinum Album Edition songbooks are now available in a collector's boxed set, containing all five albums, for $89.99, or individually--Led Zeppelin: Led Zeppelin for $21.99, Led Zeppelin: II for $21.99, Led Zeppelin: III for $22.99, Led Zeppelin: IV for $21.99, and Led Zeppelin: Houses of the Holy Platinum for $22.99.
Pick up your copies at a local music retail store, or buy them today at alfred.com/ledzeppelin.
###