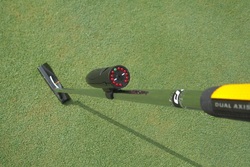 When using PurePutt, the flaws in the putting motion will immediately be identified, allowing focus in the areas that will have the biggest gains in your game.
San Jose, CA (PRWEB) October 31, 2010
The PurePutt training aid from Dazz Concepts is living up to its promise of providing teachers and golfers instant feedback to help identify flaws in putting strokes.
Matt Flenniken, one of the nation's top club fitters who is Director of Instruction at the Los Lagos Golf Club in San Jose, CA, has added the PurePutt to his arsenal of club fitting and teaching aids. "It's a fantastic training aid for teachers, yet isn't too complicated even for beginners," he said.
The PurePutt uses gyroscopes to measure the rotation of the putter, providing instant feedback about whether the face of the putter is open, closed or square at impact. It is simple to use. Just clip it on the putter below the grip, set the playing level (beginner, advanced or professional), push the start button, align the putter at the target and make the stroke.
Flenniken, who has been the PGA of American Club Fitter of the Year three times in the past 25 years and national teaching pro of the year in 2007, found that the PurePutt helped him to convince one recent student about a serious alignment problem.
Flenniken has also found that the PurePutt can help him determine if he has to fit a player with a different putter. "If he cannot line up to the target, then I fit him with a new putter," he said.
After using it to help a student, one of the first questions is how he can get one. "I just reach in a drawer of my desk and hand him one," Flenniken said. "They're simple to operate, provides great feedback and would make a great stocking stuffer."
The Dazz team has over 20 years of expertise developing innovative products for mobile systems, GPS, and integrated circuits. The team has a proven track record of incorporating advanced technologies into user-friendly products. PurePutt™ is the latest creation. Please visit the Dazz Concepts web site at http://www.dazzconcepts.com for training videos and additional information.
# # #