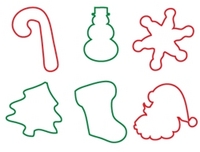 The promotional possibilities are almost endless for any business that targets kids or parents.
Dallas, TX (Vocus) October 30, 2010
Over the last year shaped wristbands have become popular with children of all ages. Children and young adults are wearing and collecting these wristbands with some boasting collections of over a hundred different bands.
Now, Bagwell Promotions is making these shaped wristbands, including a series of Christmas and Hanukkah shaped wristbands, available as a promotional item for businesses and non-profit organizations. Each packet includes an assortment of six wristbands, plus a custom 3 by 3 inch insert that can include a company logo, name or message.
According to John Bagwell, President of Bagwell Promotions, "The promotional possibilities are almost endless for any business that targets kids or parents." These include, but are not limited to, family restaurants, dentist offices, churches and schools."
The wristbands are currently available at retail stores in hundreds of shapes including, cars, animals, fruit, sports and more. They are sold in retail stores under a variety of brand name brands including, SillyBanz, CrazyBands, Bama Bandz and Zanybandz.
However, Bagwell Promotions has been able to put together packages of the most popular shapes of wristbands for businesses to give away. In addition, they are able to offer custom produced bands for specific businesses.
"The Christmas and Hanukkah shaped wristbands will allow businesses to connect with kids in a very meaningful way this holiday season, " says Bagwell. Many family restaurants will provide a set of crayons and a coloring book with each meal. The shaped wristbands can be given out for about the same price point while offering something different.
In addition, corporate or company logos can be shaped for unique "one of a kind" custom bands. With a minimum quantity order of 1,000 wristbands, most local or small businesses can afford to offer a unique giveaway at a reasonable price.
These can also be used as fundraisers for schools or organizations. A pre-packaged group of these wristbands can generate a hundred per cent markup for an organization.
Bagwell Promotions also offers the Giant Christmas Stocking promotion for businesses.
For more information on the shaped wristband craze see Marketing Resource Blog.
Additional information is available at 1-866-281-8830 or at the site Web site
http://www.bagwellpromotions.com/ .
About Bagwell Promotions
For over 30 years, Bagwell Promotions has offered over 500,000 products from 4,100 suppliers such as coffee mugs, pens, magnets, ID bracelets and an assortment of apparel.
# # #