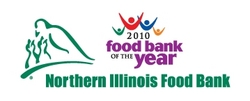 It is rewarding to have the work we do every day recognized by AT&T. We are driven by our mission to serve the community and this reward certainly reminds us that the work we do is important to others and appreciated by the local community
Saint Charles, IL (Vocus) October 30, 2010
AT&T Illinois has announced the Northern Illinois Food Bank is the winner of an "AT&T CARES" contribution of $5,000.
AT&T CARES is a volunteer initiative designed to encourage everyone to get involved in community service that is meaningful to them and their communities, to create change and to stay engaged. This contribution is presented by the Midwest employee resource group from AT&T known as FACES Midwest, or Filipino American Communications Employees of AT&T Midwest.
"It is rewarding to have the work we do every day recognized by AT&T. We are driven by our mission to serve the community and this reward certainly reminds us that the work we do is important to others and appreciated by the local community," said H. Dennis Smith, President & CEO, Northern Illinois Food Bank. "We also wish to thank Sen. John Millner for supporting this award."
Through the "AT&T CARES" contribution, the Northern Illinois Food Bank receives $5,000 to be used toward its mission of providing nutritious food to all those in need through its own efforts and those of its non-profit partners.
"AT&T and its employee resource groups have a proud history of providing charitable contributions to Illinois non-profit groups and programs that are making a difference in local communities. Today, our company recognizes the Northern Illinois Food Bank for improving the quality of life for local residents and strengthening the fabric of our state," said Valerie Bruggeman, External Affairs Director for AT&T Illinois.
Northern Illinois Food Bank (NIFB) serves 13 counties in Northern Illinois: Stephenson, Winnebago, Boone, McHenry, Lake, Ogle, DeKalb, Kane, DuPage, Kendall, Will, Grundy and Kankakee.

NIFB provides food for an estimated 502,400 different people annually
Approximately 61,600 different people receive assistance in any given week
48% of the members of households served by NIFB are children under 18 years of age
6% of the members of households are elderly
43% of households include at least one employed adult
66% have incomes below the official federal poverty level during the previous month
"We are fortunate that very committed and caring groups are working to improve the quality of life for many residents in our communities," said Sen. Millner. "Northern Illinois Food Bank does tremendous work and I was pleased to make this nomination to recognize all they do."
About Northern Illinois Food Bank:
Feeding America's Food Bank of the Year, Northern Illinois Food Bank (NIFB) is a non-profit organization that provides food to all those in need through its 665 partner agencies in 13 counties including- Boone, DeKalb, DuPage, Grundy, Kane, Kankakee, Kendall, Lake, McHenry, Ogle, Stephenson, Will and Winnebago. NIFB acquires, gathers, handles, and distributes donated, government, and purchased food to more than 61,000 different people each week through local food pantries, soup kitchens, shelters, youth activity centers and other food assistance sites. In Fiscal Year 2010 Northern Illinois Food Bank distributed over 35 million pounds of food. The Food Bank has recently launched a Capital Campaign to build a new Food Distribution and Community Nutrition Center to enable them to handle more food more efficiently to meet the increasing demand.
###