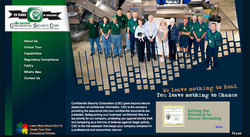 I am honored to be selected out of a field of so many excellent local companies
Peoria, IL (Vocus) October 31, 2010
AAA Certified Confidential Security Corp (CSC), a Central Illinois provider of secure information and document destruction services, was honored to receive the 2010 Outstanding Small Business Award at the Heartland Partnership Annual Meeting on October 6, 2010. This award recognizes a local central Illinois company that has between 1 and 25 employees, exhibits integrity and ethics in business, shows growth in sales and jobs and which has been in operation for at least five years. The award winners cannot be a division, subsidiary or franchise company and must be a member of the Peoria Area Chamber of Commerce.
CSC President Tom Simpson received the award at the luncheon meeting. "I am honored to be selected out of a field of so many excellent local companies," Simpson stated. "We work very hard to do what is best for our customers day-in and day-out — we do that because it is the right thing to do — it is core to our business philosophy and integral to our growth. So it is certainly special to be able to bring this award back to our plant and share it with our employees. We thank the Heartland Partnership for recognizing AAA Certified Confidential Security Corp and its employees in this way."
In naming AAA Certified as the recipient of the Outstanding Small Business Award, the Heartland Partnership described CSC in this way: "AAA Certified Confidential Security Corporation (CSC) is a commercial shredding company, started 26 years ago, long before identity theft became a major issue. It was the first information destruction service in the Peoria Area. It originally served as a paper shredding service to many banks and manufacturers, but it has grown to provide state-of-the-art security to a multitude of industries. AAA CSC has received numerous national and industry specific accolades including being a charter member of the National Association for Information Destruction. CSC has stayed on the forefront of this industry by adapting to the changes in technology and broadening its services to better service its customers. CSC is involved in numerous regional organizations and projects throughout the communities it serves."
About AAA Certified Confidential Security Corporation:
Founded in 1984, CSC has doubled in size during the last five years and currently serves clients located in Illinois, from east to west border, north to Wisconsin and south to Quincy. CSC is a company of firsts. A charter member of the National Association of Information Destruction (NAID), CSC was the first company to be certified by NAID for secure information service. Tom Simpson, CSC President, a long-time member of NAID has held multiple leadership positions since its inception. CSC was also the first dedicated information destruction service in the US to be registered to the standards of the ISO Quality Management System. In 2005 CSC received the Peoria Better Business Bureau Torch Award for Business Integrity. CSC continues to grow the secure destruction services it offers clients as well as its ability to assist clients in assessing their security processes and developing legally mandated, written information protection plans. After secure document destruction, whenever possible, CSC recycles destroyed materials. Find CSC online at http://www.confidentialsecurity.com or contact them at (309) 691-0909.
# # #