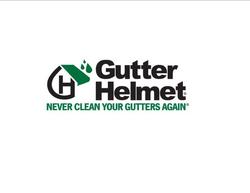 Never Clean Your Gutters Again®
Naperville, IL (Vocus) November 11, 2010
An expanded territory means that Gutter Helmet of Illinois can provide permanent gutter protection to homeowners from Chicago to Carpentersville and from Naperville to Fox River Grove. Gutter Helmet of Illinois, the best Gutter Protection Money can buy, now ready for installation in the following Counties: Cook IL, DuPage IL, Kane IL, Kendall IL, Lake IL, and McHenry IL.
Over 100 million feet of Gutter Helmet has been installed on American Homes.
Gutters never need to be cleaned again with Gutter Helmet. Gutter Helmet prevents gutters from becoming clogged with leaves, twigs, and debris, and keeps out rodents, insects and birds. Gutter Helmet's patented design will keep gutters clear while capturing every drop of rain that falls on the roof. Gutter Helmet is a permanent solution to serious gutter problems.
Because Gutter Helmet permanently prevents gutters from becoming clogged, it prevents costly damage such as rotted and decayed wood, landscape erosion, mold and mildew.
Benefits of Gutter Helmet:

Prevents clogged gutters
Keeps out leaves, pine needles and other debris
No more dangerous ladders
Deters nesting by animals that carry parasites and disease
Prevents structural damage
Installs over new or existing gutters
Without Gutter Helmet

Mold / Mildew in Attics, Basements, Ceilings and Wall Spaces
Rotten Wood on Your Siding and Roof Edge: eve, fascia, soffit
Cracked Foundations
Landscape Erosion: dead flowers & plantings
Insect Infestation
Dirty Clogged Gutters
Cleaning gutters is time consuming and dangerous. 164,000 (Thousand) people each year are hurt or die from falling off a ladder! Never cleaning gutters again means never climbing a ladder and risking a fall. But with Gutter Helmet, homeowners can avoid that danger, guaranteed. Never Clean Your Gutters Again®, protect your loved ones from Harm, keep them off a Ladder with Gutter Helmet®.
Your Home is most likely the largest investment you will make. Gutter Helmet gutter protection helps you protect that investment by keeping damaging rain water where it belongs—in the downspouts and away from your house and your landscaping.
About Gutter Helmet:
The origin of Gutter Helmet began in the 1960's when Bob Demartini (MIT graduate) began crafting an idea for the first solid gutter cover system. However, the idea to inception would have to wait for nearly two decades. During that time, Bob gained extensive knowledge and experience in product development from his positions at such companies as General Electric and Huyck Corporation.
After retiring in 1979, Bob devoted his time to developing the first professional-grade gutter protection system--Gutter Helmet®. In the fall of 1981, the first of several US patents were granted and "Never Clean Your Gutters Again®" would become vernacular to millions of homeowners.
Engineered to last a lifetime, Gutter Helmet installs over new or existing gutters. With over twenty-five years of history, Gutter Helmet is the pioneer and the undisputed leader in the gutter protection industry. A total commitment to product innovation, Gutter Helmet is America's #1 choice for gutter protection.
Gutter Helmet has provided gutter protection across America for over 25 years. More homes are protected by Gutter Helmet than any other system. With over one million satisfied customers and a lifetime guarantee, Gutter Helmet is the best gutter protection money can buy.
Contact us by November 25th and receive 25% off your purchase.
Call Gutter Helmet of Illinois at 877-500-3610.
###