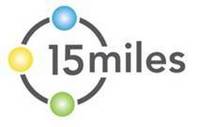 Local searches are up 14 percent from 2009, but there is still a lot of room for growth as consumers become savvy searchers and as they get more comfortable with social-local and mobile search, said Gregg Stewart, president, 15miles.
New York, NY (PRWEB) October 4, 2010
With local, mobile and social search converging, 15miles, the local, mobile and social marketing division of TMP Directional Marketing (TMPDM), announced today the findings of its fourth annual Local Search Usage Study, conducted by comScore. The data outlines the growing importance and usage of social networks and mobile search in the consumer business selection and shopping process and trends that today's marketers cannot afford to ignore.
This year's study shows that online media continues to dominate local search, as 70 percent of respondents indicated that search engines, online Yellow Pages or social networks are their primary sources of local business information.
Search engine queries continued to increase at a strong rate with nine percent year-over-year growth. Surprisingly, non-search engine queries (Facebook, craigslist, etc.) grew at 22 percent, off a smaller base to capture over one-third of total query volume. This is impacting local as well. Of local business searchers who use social networks (nine percent), 93 percent responded that they use Facebook for finding local business details.
"All of the big online players have placed a greater focus on local search; from Google, Yahoo! and Microsoft to, most recently, the powerful launches of social heavies like Facebook Places and Twitter Places," said Gregg Stewart, president of 15miles. "Local searches are up 14 percent from 2009, but there is still a lot of room for growth as consumers become savvy searchers and as they get more comfortable with social-local and mobile search."
Local Search on Social Networks Increases
As more consumers use social networks to find local business information, it is important for marketers to readdress their social presence. Sixty-nine percent of respondents are more likely to use a local business if it has information available on a social network. When using social networks, consumers most frequently find local business information on a company's brand page (56 percent), followed by recommendations from connections (55 percent).
"Today, social networking sites lack traditional search functionality, so consumers usually seek out the exact brand name or company they wish to follow. That being said, our study shows that social recommendations have enormous influence on consumers' buying decisions. In fact, 74 percent are more likely to use a local business if a connection recommends it," added Stewart.
Social network and mobile users are also more likely to use and write user reviews. Over 40 percent have submitted between two and five reviews in the past 30 days.
Additionally, of social network users surveyed:

81 percent believe that it is important for local businesses to respond to questions and complaints on social sites.
78 percent want special offers, promotions and information about events.
66 percent think that company photos are important.
More Mobile Users Seek Local Content
In addition to social media trends, the 15miles Local Search Usage Study demonstrates major changes in consumers' search habits on mobile phones. Of local business searchers with Internet-capable phones, 39 percent have researched a local business from the mobile Internet. However, smartphone owners are nearly three times more likely than standard cell phone owners to conduct local searches on their devices (59 percent versus 23 percent respectively), and 66 percent prefer to conduct those searches via mobile browsers or apps.
Of smartphone owners that responded to the survey, 36 percent conducted more than 50 percent of their local searches on their phones. Among various local content categories, the number of people accessing restaurant information and maps on their mobile device saw the greatest increases (over 45 percent), followed by online movies and online directories (42 and 25 percent respectively). Also, mobile users expect to find "distance to the business" and "consumer reviews" more than other searchers.
"The majority of mobile users still depend on the mobile browser with more than 29 million users in June 2010. However on a percentage basis, apps show the greatest growth in popularity, as 61 percent more users are accessing apps than last year," added Stewart.
15miles' Local Search Usage Study was conducted by comScore in July 2010, based on data from 4,000 online surveys together with observed behaviors of one million consumers who agreed to have their online searches tracked anonymously.
About 15miles
Headquartered in New York City, 15miles is the interactive division of TMP Directional Marketing, which is the largest local search marketing agency. Its online and mobile search solutions, which range from Internet Yellow Pages and online business listings to social media marketing and search engine optimization, position national brands at the forefront of targeted consumers' search results for increased lead generation and sales. For more information about 15miles' interactive marketing services, please visit http://www.15miles.com.
# # #