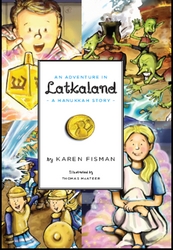 "It is refreshing to find an illustrated chapter book with a Hanukkah theme...wonderful reading for young children with just enough suspense to keep them interested." Jewish Book World
(PRWEB) October 12, 2010
An Adventure in Latkaland begins with the spin of a golden dreidl which launches two children, Jacob and Sarah on an extraordinary adventure. The children must draw on their wits, courage and the lessons of history to overcome the fearsome obstacles they encounter in a tale inspired by the story of the Maccabees.
Latkaland has received praise from readers and critics alike and was selected by the Jewish Book Council for its 2010 Jewish Book Network. As the Canadian Jewish News has said, Latkaland is a "fantastical tale suitable for telling or listening to" but also makes wonderful reading for 5-8-year-old children.
"A fast-paced fantasy plot and an easy chapter format will appeal to children who have outgrown picture book stories about the evil spirits who make trouble during Hanukkah, such as Kimmel's Hershel and the Hanukkah Goblins…", said the Association of Jewish Libraries newsletter.
"Thank you, Karen Fisman, for a rollicking adventure with enough thrills to last all eight days of Hanukkah", said acclaimed author, Eric Kimmel.
Author, Karen Fisman, will be bringing Latkaland to pre-Hanukkah book events in the US and Canada.
The book be available at local and online bookstores in plenty of time for Hanukkah.
And watch for the sequel, Problems in Purimville, in bookstores soon.
An Adventure in Latkaland, A Hanukkah Story
List price: US$7.99
ISBN: 978-0-9812650-2-5
Category: Juvenile Fiction, Age 4-8
Pages: 64 pages/colour throughout
Format: 5.5X8.5 inches, softcover
An Adventure in Latkaland will be available at local bookstores. It will also be available at online bookstores including amazon.com and chapters.indigo.ca as well as directly through http://www.jorabooks.com.
To arrange interviews and author visits and to inquire about volume discounts, please email info(at)jorabooks(dot)com.
# # #