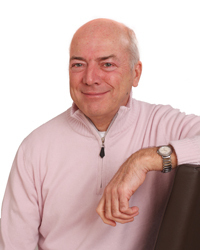 How can we be so contradictory?
(PRWeb UK) November 23, 2010
There is controversy about depicting army bullying in a BBC TV drama, 'Accused'. The head of the British army asked it to be made clear it is a work of fiction. On a TV chat show one guest claimed bullying had been dealt with, another that bullying is human nature. Who is right? Or is there yet another way to look at the whole issue? Mike Robinson in the recent bestseller 'The True Dynamics of Life' shows there are root causes to the ills in society that are currently not being addressed. Until they are issues such as bullying will continue.
In the recent number one bestselling self-help book, 'The True Dynamics of Life', Mike Robinson asks the fundamental question about society, " How can we be so contradictory?" He says "How can we wage campaigns in schools against bullying and punish children for hitting other children, yet when they get to eighteen we send them off to train as legal murderers?" It is a fact that the military and the police force have often been found guilty of bullying and if these very same institutions are what have been created to protect society, what does this say about the workings of society? It is a system that separates, divides and contradicts. It works for its own needs and betterment in the areas of power and wealth and it has a dynamic ability to control and manipulate the masses. There are two groups in any society, those that have, and those that do not have, and there is a wall between them.
In addition, individuals live their lives according to their own personal conditioning received from birth onwards from their family, peers and society. Consequently individuals consider themselves separate from one another. These separations are causing chaos, suffering (including bullying), wars, crime and dishonesty in both individual lives and in the world.
The fear of being a 'nobody' and the desire to be a 'somebody' is the root of so much suffering. Most of humanity has this fear which is rooted in feelings of not having enough or not being good enough. Unless this root cause is addressed bullying will seem to be part of human nature as it is everywhere. In effect until individuals address their own feelings of separation then the chaos and suffering on the planet will continue and bullying can never be considered to have been dealt with.
Very few people realise that the solution is inside of them, and most people look only to the external for the answer, perpetuating politics, religion, nationality etc. Thus lessons from the past are rarely learnt, history keeps repeating itself, and pain and suffering caused by issues like bullying continue, both individually and globally.
Robinson concludes, "You and only you can change your life, not by thinking differently or by focusing on positive thinking, but by going within and eradicating the fear."
There is further information about Mike Robinson's work, as well as the opportunity to join his membership area for monthly workshops, audio downloads and ongoing support on a journey of self-discovery, by going to his website
The True Dynamics of Life is available for sale online at Amazon.com, BarnesandNoble.com from Mike Robinson's website and other outlets. It is also now available on Kindle.
About the Author
Mike Robinson is a writer and personal development teacher dedicated to sharing his understandings. Brought up from the age of 3 months in a children's home, then put out into the world at 16 yrs with only the clothes he stood up in and no understanding of how the world worked, he spent many years observing his own and others pain until he found a solution. He has since spent the past 35 years travelling the world in an effort to help people recognize the truth and understand love in action. A father of three, Robinson resides in North Walsham, with his family.
REVIEW COPIES AND INTERVIEWS AVAILABLE
###