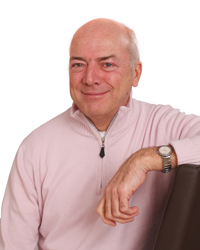 When you accept yourself for who you are without trying to be a 'somebody' in the eyes of humanity, then you have let go of your ego
(PRWeb UK) November 18, 2010
In the recent number one bestselling self-help book, 'The True Dynamics of Life', Mike Robinson explains that to be a 'somebody' a person has to become something other than what they are, and to do that they have to desire, strive and suffer. He relates this to the very beginnings of society and the consequent development of desire for more. This caused society to split and divide into the 'somebodys' – those who have or are, and the 'nobodys'- those who are not or have not. This split is called 'envy' and it is the fundamental fear of not having enough or not being good enough. Thus it is the fear of being a 'nobody'. This is so destructive to human life that it is more deadly than AIDS, HIV, cancer and more toxic than greenhouse gases.
Society is made up from a collection of human thought. The early forms of society were groups of people who banded together and worked out the best way of living. Problems began at the same time as this early form of society was being created because the desire for more started to creep in. Even the very first group hunt would have showed the signs of desire. Maybe the one who killed the animal was raised up as triumphant and given praise by others in the village, but the ones who laboured over the washing of the clothes at the river were perhaps not noticed, so people began to see how certain tasks were more pleasing to the village than others. The feeling of wanting to be labelled as good and worthy and be acknowledged would have created a sense of competition and so envy was born.
From the thoughts of competition and envy came the very foundation of the continuous wheel of pleasure and pain. Because humanity desires all the good things in life and rejects all the bad things society is trying to build up a system which includes only the good. It is trying to live in one side of duality, i.e. the white side. At the opposite extreme end of the spectrum is the black area where perpetrators of acts of bad behaviour are punished by being sent to a dark place called prison, and these 'nobodys' are no longer allowed to live in society. Society hopes that over a period of time, these people will be re‐educated to be good, so that they can once again join the ranks of social respectability.
The problem with pleasure and pain, or the spectrum of white and black, is that they are symbiotic, where one is the other will soon follow. Society is a mind‐made system and no matter how it tries to incorporate only pleasure, pain will always be just behind it, following it in. This is why the destructive patterns continue, ranging from family splits, neighbour disputes and workplace rivalry right through the spectrum to global wars, causing further rifts and further suffering.
Mike Robinson says, "When you accept yourself for who you are without trying to be a 'somebody' in the eyes of humanity, then you have let go of your ego" He continues. "Only an ego would make a person a 'somebody' or its opposite, a 'nobody'. Your descriptive labels are not who you are, they are what you have become, so don't judge yourself and others on the value of a label. Instead allow the true you to emerge, because when you are not attached to any descriptive label, you are free"
There is further information about Mike Robinson's work, as well as the opportunity to join his membership area for monthly workshops, audio downloads and ongoing support on a journey of self-discovery, by going to his website
The True Dynamics of Life is available for sale online at Amazon.com, BarnesandNoble.com from Mike Robinson's website and other outlets. It is also now available on Kindle.
About the Author
Mike Robinson is a writer and personal development teacher dedicated to sharing his understandings. Brought up from the age of 3 months in a children's home, then put out into the world at 16 yrs with only the clothes he stood up in and no understanding of how the world worked, he spent many years observing his own and others pain until he found a solution. He has since spent the past 35 years travelling the world in an effort to help people recognize the truth and understand love in action. A father of three, Robinson resides in North Walsham, with his family.
REVIEW COPIES AND INTERVIEWS AVAILABLE
# # #