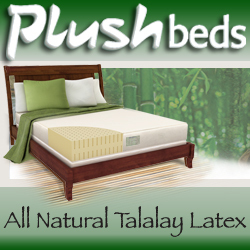 With Black Friday discounts, consumers can buy a 100% natural latex mattress at the cost of a memory foam mattress.
Lewes, DE (PRWEB) November 22, 2010
It's an exciting time of year for consumers who are looking to stretch their dollar further. A 100% natural latex mattress is considered one of the best sleeping surfaces known to exist, however due to the high cost of the raw materials, natural latex is typically out of the price range of most people. Additionally, because of the higher price points, most local mattress stores don't carry 100% natural latex mattresses or only carry synthetic variations.
"Natural latex has many advantages over memory foam and other mattress types," explains PlushBeds VP Michael Gordon, "For starters, a disadvantage of memory foam is that it gets softer as it absorbs your body temperature, giving some people a "sleeping in quicksand" sensation whereas natural latex does not react to body temperature & provides resilient support through the night. Also, even the best memory foam retains some body heat, causing many sleepers to have night sweats whereas natural latex has better circulation and is known to sleep much cooler."
"We do sell a lot of memory foam as it's still somewhat of a novelty," explains Gordon, "but we find that for many consumers who own a memory foam mattress or topper, their next mattress purchase is natural latex."
"With our Black Friday promotion," Gordon continues, "customers can buy a 100% natural latex mattress factory direct at http://www.plushbeds.com, for $1,000 - $2,000, where the same mattress would cost $3,500 to $4,000 in a local mattress store. By eliminating the retail store from the distribution chain, we can offer customers higher-quality mattresses at prices they can afford."
All PlushBeds' Black Friday latex mattress specials come with free US shipping and a 100 night money back guarantee. If a customer doesn't fall in love with their new mattress in the first 100 nights, they can simply ask for a free comfort exchange it or return it for a refund.
Plushbeds Black Friday Specials and Cyber Monday deals include some additional outstanding savings on mattresses including the following:

$100 off any natural latex topper
$100 off any memory foam topper
$500 off any memory foam mattress
$500 off any RV mattress
$600 off any latex mattress + foundation
About PlushBeds:
Headquartered in Lewes, DE, PlushBeds is a leading online retailer of natural latex mattresses and other specialty sleep products. Backed by over 39 years of manufacturing experience, Plushbeds is unique in the latex mattress industry in that their mattresses are made to order, allowing customers to specify the firmness of a particular mattress. To learn more, call toll free 1-888-449-5738 or visit Plushbeds at http://www.PlushBeds.com.
###