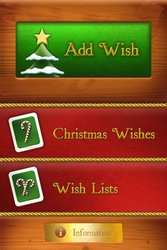 Christmas wish allows users to compose and organize what's on their list for friends, family, and Santa
San Jose, CA (PRWEB) November 22, 2010
A new application hits the Apple App Store in time for the holiday season. Christmas Wish allows users to compose and organize the things they have on their wish list.
With this easy to use application users can add a name, price, location, website or detailed notes about the objects of your desire. Take a photo to help the user, or those they would like to share their gift idea with, to remember the exact details.
Christmas Wish also allows users to make lists of gift ideas for friends and family. Create a Wish List and quickly file them into customized categories. The Wish Lists can be labeled with included icons or a photos from the personal photo library.
Social networks are included so the user can make sure everyone or just a few know the Christmas list they have. An option exists to broadcast the cool things they are looking for on Twitter, Facebook, or send that long list of holiday wishes to their closest friends and family through email.
They can even send their wish list directly to Santa himself!
Features:

Fast Christmas list creation
Simple creation of Wish Lists to help organize your Christmas gift ideas
Keep track of each wish with a custom name, price, location, website, photo, and detailed notes
Send out your holiday wish through Twitter, Facebook and Email
Email single gift ideas or full wish lists to family, friends and even Santa
Check off the items you receive
Someone get it for you? Check it off and hit the send thanks button to send them an email, letting them know they made your holiday wish come true
iPhone 4 Retina display graphics
Visit http://www.reaxtive.com for more information or visit the app store http://itunes.apple.com/us/app/christmas-wish/id395091959?mt=8
# # #