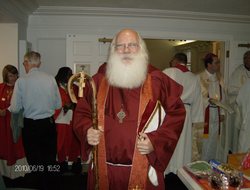 Bishop Santa's observation that the Pope may have committed the mortal sin of pride and may burn in Hell for eternity is supported by... the Roman Catholic Catechism.
Incline Village, NV (PRWEB) November 21, 2010
Bishop Santa Claus is a child advocate, consecrated Bishop, and Christian Monk. He takes Pope Benedict XVI to task for what he observes as the Pope's moral failure, regarding the issue of child abuse by clergy, and maintains the Pope should resign, as permitted by Roman Catholic Code of Canon Law 332 S2.
Bishop Santa characterizes the Vatican's most recent proposal, regarding child abuse by clergy, that it will undertake "preparation work for a circular...on the guidelines to offer a coordinated and efficient program" as extraordinarily inadequate, "Far too little remedy, and far too late."
Bishop Santa observes, "It appears that, according to the Roman Catholic Catechism, the Pope may have committed the mortal sin of pride and may burn in Hell for eternity. The Pope clearly has placed his interests and those of his clergy, the Vatican, and the Catholic Church above the needs of vulnerable children and his parishioners."
Bishop Santa prays that, "The Pope will make the courageous decision to issue a Papal Edict or Papal Bull -- directing all Roman Catholic clergy to immediately report all cases of suspected and confirmed instances of child abuse by clergy to the appropriate governing authorities for criminal investigation and ensuring the full cooperation of the Roman Catholic Church with those investigations. And, that the Pope will swiftly and permanently laicize (dismiss), by decree, all clergy who have been found guilty of child abuse."
Bishop Santa's observation that the Pope may have committed the mortal sin of pride and may burn in Hell for eternity is supported by the following sections of the Roman Catholic Catechism that appear with full text online at: http://www.vatican.va/archive/catechism/ccc_toc.htm and at http://www.TheSanta.im.
The abuse of children: #2285, #2389, and #2356.
Submission to governing authorities: #2094, #2238, #1899, and #2235.
Mortal sin and Hell: #1857, #1861, #1874, and #1033.
Forgiveness and reconciliation: #1462, #2631, #1468, and #1453.
Fortitude: #1808 and #2090.
Bishop Santa recalls a radio address Pope Benedict XVI (then Ratzinger) made more than 4 decades ago in 1969 (translated): "From today's crisis, a church will emerge tomorrow that will have lost a great deal. She will be small and to a large extent she will have to start from the beginning. She will no longer be able to fill many of the buildings created in her period of great splendor. Because of the smaller number of her followers she will lose many of her privileges in society… It will make her poor and a church of the little people… All this will require time. The process will be slow and painful."
Bishop Santa asks the Pope, "Why do you expect people to have faith in the Church at a time when it would seem the hierarchy of the Church does not practice what it professes are its own Christian principles and catechism?"
Also, "Can a Pope who has committed a mortal sin and is burning in Hell for eternity be beatified, canonized, or achieve sainthood?"
"How does one," Bishop Santa inquires, "who praises the strength and fortitude of Christ, who submitted himself to a governing authority and suffered crucifixion, fail to recognize the parallel situation that exists in the Church today?"
Perhaps, formulating his own answer and referring to the Bible, Bishop Santa quotes Matthew 25:40: "And the King shall answer and say unto them, Verily I say unto you, Inasmuch as ye have done it unto one of the least of these my brethren, ye have done it unto me."
Bishop Santa concludes that the Pope has a very clear choice: (1) to continue to commit the sin of pride against vulnerable children, parishioners, and governing authority and burn in Hell for eternity, or, instead, (2) to elect to protect the millions of children in his care, address what the Pope has called "the sin inside the church," identify and remove child abusers from the Church's midst, cooperate with their prosecution by governing authorities, and get them treatment, compensate victims of abuse, restore faith in the Roman Catholic Church (and Christianity in general), set a positive example for other denominations suffering from similar child abuse issues, repent, reconcile, and do penance.
Bishop Santa believes the Pope's issuing an Edit or Bull would demonstrate his intent to resolve the issue of child abuse by clergy and would confirm, by decisive action, his commitment to protect all children entrusted to his care, above and beyond the Pope's evident and longstanding concern for the perceived needs of his clergy, the Vatican, the Roman Catholic Church, and the Pope, himself. Bishop Santa emphasizes, "The time to do that is now."
Related articles:
http://www.prweb.com/releases/2010/07/prweb4140144.htm
http://www.prweb.com/releases/2010/08/prweb4339544.htm
# # #