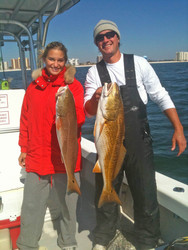 Gulf Shores and Orange Beach, Ala. (PRWEB) November 11, 2010
Alabama's Gulf Coast has turned red, white and blue for Veterans Day, an annual holiday honoring military veterans. If you've wondered what a deckhand does on her holiday – she goes fishing, of course. Mandy Prell of Pensacola, Florida, who is a deckhand on the "Zeke's Lady," a charter boat based at Zeke's Landing Marina in Orange Beach, Ala., also manages the dock store.
The first Sunday in November, Prell went out with Captain Bryan Reeves, who was captaining the "Riptide" charter boat that day, and a friend to search for schools of big redfish. "We went just west of Perdido Pass on the Alabama/Florida border looking for diving birds," Prell says. "The big schools of redfish had forced the baitfish to the surface. When the seagulls saw the baitfish just under the water, they would dive on the baitfish to catch and eat them. Baitfish have two choices. They can dive deeper and get eaten by redfish or stay near the surface and get picked-off by seagulls. So, anglers depend on diving seagulls to learn the locations of schools of big redfish. We saw several groups of diving birds and a dozen or more boats fishing the schools of redfish.
"We used 10-pound-test line on spinning tackle with a 3/8-ounce jighead and a pearl white Berkley Gulp! Alive! Pogy to jig for the redfish. We caught four bull redfish weighing from 12- to 20-pounds each in less than 2 hours. Captain Reeves hooked-up with the biggest redfish weighing more than 20 pounds, and he fought the fish for about 10 minutes. That bull red took so much line off his spool, that we had to back the boat down on the redfish to finally land it. At one time, all three of us were fighting that redfish."
Many anglers fish with light line and spinning tackle to catch the big bull reds at Orange Beach. With light line and light tackle, playing a redfish for 10 to 45 minutes isn't uncommon. The redfish often weigh from 12- to 20-plus-pounds each. Because of the size of the redfish caught, anglers release most of them. The limit is one bull red per person. Professional anglers like Prell and the captains at Orange Beach rarely keep any of the giant redfish.
"After we caught our redfish, we went to the west jetty at Perdido Pass and caught white trout and bluefish in preparation for Veterans Day," Prell explains. "So, I guess we had a red, white and blue day of fishing." Prell and her party caught all their fish on lead-head jigs with a 3-inch pearl white Berkley Gulp! Alive! Pogy.
"Most of the time the redfish took the bait on the fall," Prell reports. "If we'd stayed and fished longer, we could have caught more redfish, bluefish and white trout. However, now's the beginning of the bull red migration, and we wanted to be one of the first boats to locate the schools and fish for them. The schools of bull reds often will be within 2 miles of shore, on the front beach, west of Perdido Pass."
The special fall red snapper season is drawing many tourists to Orange Beach, Ala., on Fridays, Saturdays, and Sundays, when they can catch and keep a limit of red snapper. This special red snapper season continues until 12:01 am on November 22, but fishing at Orange Beach doesn't end then. The bull redfish season is just beginning and generally lasts throughout the winter months. For more information on fishing guides and charter boats, lodging accommodations, restaurants and entertainment on Alabama's Gulf Coast, call Gulf Shores & Orange Beach Tourism at 800-745-SAND (7263), or visit http://www.orangebeach.com. You also can get a fishing report three times each week by visiting the "What's Biting?" column at http://www.orangebeach.com/fishing/biting/
# # #