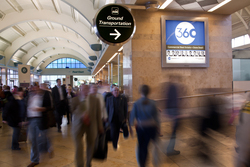 "360 Commercial Partners has quickly forged a reputation for aggressive advertising and breakthrough marketing that both targets and maximizes exposure for our clients' properties."
Irvine, Calif. (PRWEB) November 3, 2010
360 Commercial Partners, a full-service commercial real estate brokerage based in Irvine, today announced the launch of its dynamic new ad campaign in John Wayne Airport. Designed by the firm's in-house advertising agency, the 6' x 6' ads are placed at the highest traffic locations in Terminals A and B. The eye-catching, branded billboards are backlit and feature the headline "Commercial Real Estate = Done Deal!" communicating 360 Commercial Partners proven track record of providing five-star strategy, marketing, service and results to clients.
"In today's dynamic market, it's critical for commercial real estate brokerages to continue to innovate on the marketing front," said Carrie Williams, senior director of marketing for 360 Commercial Partners. "360 Commercial Partners has quickly forged a reputation for aggressive advertising and breakthrough marketing that both targets and maximizes exposure for our clients' properties."
The 360 Commercial Partners ads in John Wayne Airport are set to reach nearly 3,000,000 travelers over the busy fall/winter holiday seasons, driving consumers to the firm's website to review office and industrial properties for lease and for sale.
"We are the only commercial real estate brokerage to reach business travelers through a prominent advertising campaign in John Wayne Airport since 2008," said Williams. In addition to the firm's large, wall-mounted ads at the security checkpoints/terminal entries, 360 Commercial Partners' messaging also is displayed at two video outlets at each of the terminal baggage claim areas.
The airport ad campaign is the latest example of the firm's pioneering approach to commercial real estate marketing, which also includes compelling, call-to-action advertising in lifestyle magazines such as Coast, Riviera, Robb Report, Luxe, and the Balboa Bay Club's Bay Window.
"Strategic, best-in-industry marketing is a cornerstone of our unwavering commitment to clients," said Williams. "360 Commercial Partners will remain at the forefront of commercial real estate marketing, exploring new techniques and media outlets to ensure our valued clients' objectives are met."
For more information on 360 Commercial Partners and to view the firm's premier industrial and office property listings, please visit 360CommercialRE.com or call 949.296.3600.
# # #