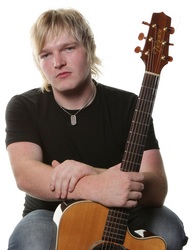 To come second overall we did really well seeing as that was from 12,000 bands and singers
(PRWEB) November 1, 2010
Twister, a local band from Durham, have just played at the 02 arena in front of a live audience and industry experts in a bid to win the prestigious Surface Unsigned music awards. The group climbed their way up the regional qualifying rounds to compete for the top prize, a slot at the Sziget Festival. Amongst this is also a single deal, PR and marketing from professional communication agencies, as well as more instruments and equipment than you can shake a stick at.
Twister are a four-piece, energetic rock/punk/indie band based in the Northwest of England. Their sound is classic rock and roll with a pop edge, and they are absolutely awesome live. The band entered the Surface Unsigned competition and battled it out with 12,000 other groups to secure a spot in the finals of the competition. Along with 67 avid fans, they travelled from their hometown in Durham to the huge O2 Academy in London to perform in front of a massive crowd and industry professionals.
Twister were just beaten to the top spot and came out 2nd overall, an incredible result for the band. The band, however, are ambitious and rightly so, believe they should have won. This is what front man, Stevie Stoker, had to say about the results: "To come second overall and so close to top spot was a bit of a shame. We feel a bit cheated, but we still did really well seeing as that was from 12,000 bands and singers. "
Stevie is only 19 and is currently studying for a Foundation Degree in Music at East Durham College. The further education College has a talent for creating musical professionals, and offers a huge variety of courses from apprenticeships to staff training. As part of an enterprise project at the college, Steve and other students have set up a recording label called Hotdesk Records. Through this label Twister released their single, Satellite, in July of this year.
The Surface Festival that Twister entered is a European live music event that is held throughout Europe and aims to discover and promote new talent. Anyone can enter by filling in an online application form. There are five stages to the competition; 1 and 2 are a battle of ratings where each bands has to gain as many votes as possible by fans, musician votes and industry votes. Stage 3 is the semi-final showcase; stage 4 is the regional showcase where bands and artists must perform in front of industry professionals in order to land a place in the International showcase, stage 5.
About East Durham College: East Durham College are a further education college offering full and part time courses and training for people aged 16 and above. We specialise in a number of different courses including apprenticeships, A levels and further education courses, as well as adult learning and staff training.
For more information, please contact Alistair Cummins-MacLeod (Marketing and Press Office) on 0191 518 8296 or 07979 756 808, or by emailing acm (at) eastdurham (dot) ac.uk
###