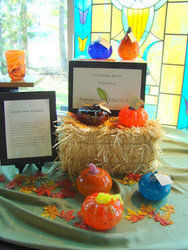 "Glass blowing is our passion and we are excited about bringing the glass blowing studio and glass gallery back to its original location," Barbara Streeter
Conway, SC (PRWEB) November 1, 2010
Conway Glass Center, located in Conway, South Carolina, is celebrating the reopening of its new glass gallery and glass blowing studio on November 6th. The Glass Center will be featuring free glass blowing demonstrations all day 11am – 4pm with "live" music and refreshments from 4pm – 6pm. Everyone is invited to watch as local glass blowers create works of art from molten glass. Glass blowers will craft colorful bowls, vases, pumpkins and ornaments right before your eyes. Learn about the century-old tools and techniques still used today by modern day glass blowers. Enjoy the gallery reception with "live" music by Brian Roessler and refreshments from 4pm – 6pm.
Conway Glass Center is the "Home of Pop's Original Blown Glass." The Glass Center reopened the glass blowing studio and renovated glass/art gallery in October of 2010. November 6th marks the anniversary of fifteen years of glass blowing for the owners of Conway Glass Center, Ed & Barbara Streeter. With the recent closing of Pop's Glass Station, the Streeter's have brought the glass blowing studio and gallery back to its original location at 2416 Main Street.
Conway Glass Center is located a short drive from Myrtle Beach, South Carolina. The Glass Center features 7000 square feet of glass products from blown glass and stained glass creations to more traditional glass products for your home and business. The couple has over 50 years combined experience in the glass industry.
Visit http://popsglass.com to find out more about our products, classes, demonstrations and glass blowing parties or contact Barbara at 843-248-3558. Classes are ages 5 years and up!
# # #