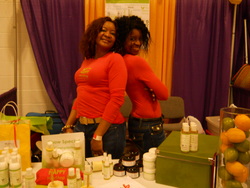 "Our goal is to create a village where people of African Descent can gain tips, solutions, and support for the nurture and care of our unique hair and skin. We are promoting acceptance for the perfect way God created us."
St. Louis, MO (PRWEB) November 15, 2010
Rock Hill natives Pamela Coleman Holmes and Lana Coleman will be cutting the ribbons on the innovative, The Nappy Kitchen Salon and Store on Saturday, November 27, 2010 in St. Louis, MO. The 1200 square foot salon and store at 1110 Tower Grove opened for business in late September. The grand opening celebration will take place from 1 to 4 p.m. at the salon and the public is welcome.
The Nappy Kitchen is the first of a string of natural hair salons that Coleman Holmes plans nationally. The St. Louis location is co-owned by Coleman Holmes, a graduate of Webster Groves High School, and Lana Coleman, a graduate of Ritenour, who is also the salon's manager. Coleman Holmes says she created the salon because there was tremendous demand for salon professionals dedicated to the nurture and care of natural hair. The salon concept comes from the growing demand from customers of her "Nappy Hair Shop" natural hair care line of shampoos, conditioners and hair crèmes, that is sold online at http://www.nappyhairshop.com and in salons.
"African American people are embracing their natural hair more and more everyday," Coleman Holmes said. "We have stopped accepting what our culture has said about us and realized that we are "fearfully and wonderfully made." The Nappy Kitchen's corporate slogan is "good hair is the kind that stays on your head" and Coleman Holmes says the company is committed to hair growth solutions and scalp health. "Our services do not include relaxers or other damaging chemicals," she said. "These products have traditionally achieved a short term "look" but often lead to long term damage to the hair and scalp."
Lana Coleman, a licensed cosmetologist, said "natural hair is versatile and dynamic and I want to free women from the bondage of concern about their hair. Concern for our hair has limited African American women's ability to have fun and enjoy life," she said. "Many of us don't swim, workout, or even lay flat on our pillows at night. This negatively impacts our health and longevity."Instead, she is encouraging women to get free and go natural. "Our hair is the only hair in the world that can do all of these amazing things, braids that stay, twists that rock, and hair that flows," Coleman said.
The Nappy Kitchen offers a range of services including shampoo and style, braiding, the start and maintenance of locks, waxing, weaves, brows and lash styling, facials, scalp massage, makeup, barber services and children's hair care. "Our goal is to create a village where people of African Descent can gain tips, solutions, and support for the nurture and care of our unique hair and skin," Coleman Holmes said. "We are promoting acceptance for the perfect way God created us." The salon is open Tuesday to Friday, 8 a.m. and 6 p.m., and Saturdays, 8 a.m. to 3 p.m. It is located next door to Sweetie Pie's. Appointments are encouraged and walk-ins are welcomed. For more information, visit http://www.thenappykitchen.com or Lana(at)thenappykitchen(dot)com, or call the shop at 314-535-1811.
Facebook link: http://www.facebook.com/pages/Saint-Louis-MO/The-Nappy-Kitchen/196269944863
Twitter link: http://twitter.com/thenappykitchen
###