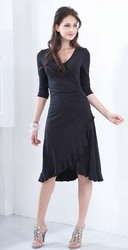 I LOVE LOVE LOVE it! In the last few months, I've ordered & returned four nursing dresses (from other on-line companies). I just didn't find them flattering. The flamenco dress is a completely different story -- I tried it on & didn't want to take it off!
(PRWEB) November 23, 2010
BumbleWee Nursing Wear is offering Free Shipping on all orders this Christmas season. BumbleWee Nursing Wear has just received a new shipment of fabulous nursing dresses and nursing tops for top name brands in breastfeeding clothing such as Majamas Nursing Pajamas, 1 in the Oven, Japanese Weekend, Mothers En Vogue
Breastfeeding moms are out and about this Christmas season, and they need to feel fabulous at that work Christmas party. BumbleWee Nursing Wear has a great selection of fabulous nursing dresses that are perfect for any Christmas event.
BumbleWee Nursing Wear's top selling nursing dress this Christmas season is Mother En Vogues Flamenco Dress
For more information on the different types of Nursing Top styles that are available see our Nursing Top Styles Guide.
###