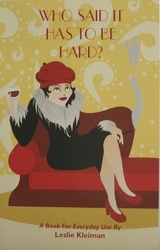 New York, NY (PRWEB) November 1, 2010
In the fall of 2009, Leslie Kleiman commenced a journey to look at, experience and transform her fears around her ability and worthiness to create unlimited abundance. The result was Who Said It Has To Be Hard?, a book chronicling that journey. Throughout the book Leslie demonstrates, with pathos and humor, how the maxim that something is only valuable if obtained through hard work or hardship is merely an outdated belief system supporting our core feelings of unworthiness.
Leslie says: " My intention is that you will use this book as a resource and as a way to validate and empower your intuition. I would love it if you would simply choose a place in the book whenever you feel the need for guidance and trust that the chapter you have chosen contains the guidance you are seeking. Reading it from cover to cover and laughing as you do so would be good too."
To find out more about Leslie, Who Said It Has To Be Hard? or transforming your fears visit Leslie's website, http://www.questionsofspirit.com.
###