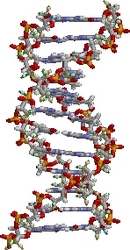 Evolution is a good example of artificial intelligence moving to applications involving different populations with very different time frames. This ability to analyze information with different time frames are a major advance in artificial intelligence
Savannah, GA (PRWEB) November 15, 2010
"Artificial Intelligence analysis was advanced this summer to a new level. AI Stock Fund have now advanced artificial intelligence with the ability to handle analysis with varying time frames allowing artificial intelligence to be applied to many difficult problems like evolution with vastly different time scales of analysis", announced Bill Reid, a leading scientist at AI Stock Fund and an expert in artificial intelligence.
Using an example of the Fossils, DNA and Legal evidence of evolution we show analysis of evidence with different time frames, demonstrating the new level of this science. Applying artificial intelligence with different time frames shows new capability to identify evolution may be stronger than evidence for the theory of gravity or the speed of light.
Artificial Intelligence has been advancing steadily in 2010 from mechanical methods and natural methods in thousands of applications to the new capability of analysis of population variances over generations. Current artificial intelligence applications have been in applications with the same time frame, like Boeing jet engines. AI Stock Fund has advanced artificial intelligence to the top of stock trading by understanding the application of these methods to the specific application of population analysis. In the middle of this year this analysis naturally correlated to the advances in evolution because of vastly different time frames of analysis of populations variances. Sometimes called "Survival of the fittest" of selection the same logic then applies to stocks, ETFs, mutual funds and bond funds as populations for analysis. Looking at the correlation, investment populations have lifetimes as do plants, animals and humans. ETFs are one of the recent populations on the investment scene; mutual funds may be in decline. This new advancement in this science is a major breakthrough in artificial intelligence for studying populations with differing time dimensions, like evolution.
For evolution analysis we see 3 main types of populations for analysis:
1. Human DNA evidence – rapidly increasing population; short time frame
2. Fossil evidence - very long time frame; missing elements in the population
3. Legal evidence - 16 adjudicated cases; probably a completed population
Let us assume, for a starting point, that all three factors are equal in validity. The formula then becomes the simplest of artificial intelligence functions:
Evolution Likelihood = DNA (likelihood) * DNA (correlation) + Fossil (likelihood) * Fossil (correlation) + Legal (likelihood + Legal (correlation)..
"The legal component is 100% correlated as all 16 cases were adjudicated in favor of evolution. There does not appear to be any further cases on the horizon. There have been fully adjudicated federal court cases involving evolution and the First Amendment of the US Constitution", as reported by The National Center for Science Education http://ncse.com/.
"DNA population is increasing rapidly and many experts now insist DNA fills all the holes in the fossil evidence. Human DNA is the study of chromosomes, according to the theory of evolution, because we are so closely related to these apes in genetic terms. Once scientists started looking for evidence of chromosome fusion they were surprised at how easy it was to find. Indeed, human chromosome 2 is now accepted by scientists as having resulted from the fusion of two ancestral chromosomes, still found in apes", according to The American Institute of Biological Sciences at http://www.actionbioscience.org.
"The fossil evidence is the weakest with missing links that make never be found. Fossil have been found but have large gaps in time. Fossilization is an exceptionally rare occurrence, because most components of formerly-living things tend to decompose relatively quickly following death. In order for an organism to be fossilized, the remains normally need to be covered by sediment as soon as possible" according to the National Academy of Sciences, Institute to Medicine (2008) Science Evolution and Creationism. Washington D.C. The National Academies ISBN-13 978-0-309-10596-6.
"Evolution is a good example of artificial intelligence moving to applications involving different populations with very different time frames. This ability to analyze information with different time frames are a major advance in artificial intelligence", reports Bill Reid.
# # #