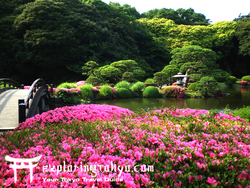 Just because it's the world's most expensive city doesn't mean everything is over-priced. You'd be surprised to find how affordable it can be, anyone has the capability of going
Tampa, FL (PRWEB) November 3, 2010
Exploring Tokyo today announced the launch of their resourceful and informative Tokyo Travel & Sightseeing Guide http://www.exploringtokyo.com.
The website was created to provide travelers, curious web surfers and even Tokyo natives themselves with detailed information about Tokyo's best sight seeing from both modern and traditional ends of the spectrum.
The travel guide takes up essentials such as: shopping districts, gardens, temples & shrines, markets, dining, and then goes in depth, detailing all major districts in the city, from Shinjuku to Akihabara. After which it takes it a step further and addresses some of the smaller yet essential districts such as Sugamo and Nippori.
"One fact that sets our guide apart from others is that all of the information current. It is not uncommon to find dated travel info on the web and in publications, not to mention the noticeable lack of good and extensive photography," says Naru Sasaki, Chief Writer. "Tokyo is a fascinating city to behold so naturally there should be an abundance of photography so travelers can catch a glimpse of the city's magic. We have over 1,500 photos covering all aspects of the city. From the slums to the skyscrapers, gardens to shrines", he said.
In order to further assist travelers Exploring Tokyo offers detailed maps powered by MSN and Google maps which show exact locations of points of interest, temples, dining, gardens and more. Depending on mobile devices these locations can be imported into phones, providing an invaluable convenience to travelers.
Exploring Tokyo raises the bar further and provides a series of 'How to Guides' covering such over-looked essentials as "How to get from Narita International Airport to Downtown Tokyo – step by step", to "How to use an ATM in Tokyo". There are also detailed explanations and guides for how to use the train in the city.
"If you're in Tokyo you're going to be riding the train whether you want to or not, its just a fact. And if you're used to Western trains or have never even rode a train then you're going to need some orientation. With our train guides we want to make your travelling as problem free as possible, so you can focus your attention on the good stuff", continues Chief Writer Sasaki. "Aside from our guides we hope travelers will also check out our Learning Japanese Guide where we take an earnest approach to teaching Japanese in a systematic manner. You certainly don't have to learn Japanese to visit Tokyo, but it will make the experience more rewarding", he said.
Being one of the world's most expensive cities, many travelers and readers may assume traveling to Japan as something they could only dream about, but this doesn't have to be the case says Sasaki: "Just because it's the world's most expensive city doesn't mean everything is over-priced. You'd be surprised to find how affordable it can be, anyone has the capability of going. In fact with a budget of $2000.00 USD one could visit the city for a week! On our website we itemize the expenses one by one to illustrate this to the traveler. The point is, if you really want to go, you can make it happen. We provide you with the best of Tokyo to ensure you have the time of your life.
# # #