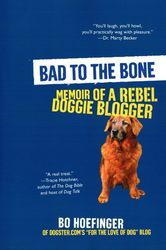 Sometimes as an author you need to think outside the box to get noticed, try something never done before. We know we have a funny dog book based on all the 5 star reviews. What we don't have is the much needed exposure to make it a success.
Kennesaw, GA (PRWEB) November 9, 2010
When it feels like it is raining dog books, and yours is one of hundreds, what does an author do to get noticed? Bo Hoefinger, nationally published author, has come up with a novel idea to sell his book. The idea is to offer readers his funny dog memoir, BAD TO THE BONE: Memoir of a Rebel Doggie Blogger and let them decide what they want to pay for it. The great thing about this effort is that all profits will be donated to dog rescue groups.
If not already aware, BAD TO THE BONE: Memoir of a Rebel Doggie Blogger was published by Kensington Books (Citadel Press) in October 2009. It is written through the eyes of the dog, Bo, and is the first non-fiction memoir published under the dog's name.
Bo's book, unlike other dog memoirs out there, is laugh out loud funny and does not have a sad ending. 'Bad To The Bone' features Bo's two parents as they embark on life together, along with their four legged companion who manages to outwit them at every turn. The book highlights the bond between dog and owner; the love, laughter, and joy a dog brings into a family's life.
'Bad To The Bone' has been getting great reviews by readers and critics alike. Britain's #1 dog publication, Your Dog Magazine, says, "If you can imagine 'Marley & Me' written from a dog's point of view, but much funnier and with a happy ending, then you'll find this isn't far off the mark." Publishers Weekly called it "hilarious from beginning to end." The tough critics at American Dog Magazine even chose it as a featured spring reading pick. It has a five star rating on Amazon, readers call it "laugh-out-loud funny" and "one of the most original books they have ever read."
Horst Hoefinger realized shortly after publication how difficult it is to get the national attention needed to make the book a big success if you're not a well-known author, no matter how many great reviews. He found out as a first time author that it 's up to him to get the word out.
He's tried all the various marketing methods out there, all to no avail. There are so many dog books vying for the attention of the consumer, it's virtually impossible to get the message out to the masses without the help of major publications.
The Hoefingers came to realize that out the box thinking is needed in order to get some publicity. Based on all the five star reviews, they know the book is good, but what they don't have is the much needed exposure to make it a best-seller like some of the other dog books out there.
The genesis of the 'Pay What You Want' idea is the same business model tried by the highly acclaimed band Radiohead for one of their albums. The Hoefingers thought that was a great idea when they went to market with it, and since It's never been tried by an author decided to give it a shot to bring attention to Bo's book, and help dog rescue groups in the process.
Want to get a copy, act now, quantities are limited. Just go to the author page at http://www.badtothebonememoir.com, and use the 'Pay What You Want' tab. Keep in mind, whatever is paid goes to dog rescue, especially the smaller ones who are in desperate need of funding to survive.
Or order a personalized 'pawtographed' copy on his author page for $15, just click on 'Bo Merchandise.' As a special incentive, if ordered now through December 9th, get a SURPRISE FREEBIE with purchase. The book is the perfect holiday gift for the dog lovers in your life and feel good about the purchase because Bo donates 10% of his proceeds to shelters.
Help save this dog from being buried under a pile of dog books, BUY NOW, then spread the word to all your dog and cat loving friends.
###