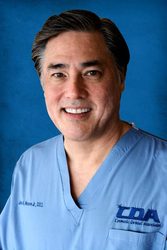 Diabetes patients need to take action to protect themselves against the added dangers of dental problems. It's not just about their teeth; it's about their total health.
San Antonio, TX (PRWEB) November 1, 2010
While most people know that diabetes can lead to such life-threatening conditions as kidney failure, strokes and heart disease, many are surprised to find that there is a dangerous relationship between dental health problems and diabetes.
During this November's National Diabetes Month, veteran San Antonio cosmetic dentist John Moore, DDS, warns that the country's 24 million diabetes patients have special dental risks, and that failing to address them can have a devastating impact on their health.
Here are six things you need to know about diabetes and oral health:
1) Gum disease -- Diabetic people are especially vulnerable to gum disease, and it can be much more severe, moving from gingivitis to periodontitis more easily. In fact, this link is so strong, that gum disease can be an early warning system for early stages of diabetes.
2) Sugar in saliva – You may be accustomed to checking your blood glucose, but did you know glucose is in your saliva as well? And if your blood glucose is not under control, that extra sugar provides extra, continual nourishment for the tooth and gum-attacking bacteria in plaque.
3) The cycle – Experts say that diabetes and oral health problems are a two-way street; each can make the other worse. Diabetes makes dental health problems more likely - and more severe - and the infection of gum disease can boost blood sugar and make it harder to control the diabetes.
4) Healing problems – When your blood glucose level is high, your circulation and the effectiveness of white blood cells are impaired, causing problems healing gum disease and the effects of oral surgery. In fact, if your blood sugar is not under control, you should delay dental procedures that will require healing, if possible.
5) Cause of diabetes? – Scientists are studying whether gum disease might actually be a factor in the development of diabetes, especially among those who are already at risk. Some think the glucose-boosting effect of gum disease may push some borderline patients over the edge.
6) Other oral problems – Besides gum disease, diabetic people have a higher incidence of conditions such as thrush and dry mouth. Smoking can worsen these conditions.
"Diabetes patients need to take action to protect themselves against the added dangers of dental problems," Moore said. "It's not just about their teeth; it's about their total health."
Steps diabetic patients can take include:
1) Alert the doctor – When you first see a dentist, your paperwork should include questions about diabetes. It's critical that dentists know they are dealing with special-needs patients. But especially with Type 2 diabetes, a longtime patient may be diagnosed without the dentist's knowledge. Patients must take the initiative to inform their dentists – and remind them – about their condition. This includes information on their diabetes treatment and medication.
2) Control blood glucose – Sustained high levels of blood sugar can be lethal in many ways. Getting your glucose level under control, through diet, exercise and medication, can reduce the risks of oral infections and other problems.
3) Dental hygiene – Diabetes patients should practice the same dental hygiene habits that are recommended for everyone; but the consequences of not doing so are much more serious. Patients should brush their teeth with fluoride toothpaste twice daily and floss every day. They should take extra care to brush thoroughly, but gently, because their gums are more vulnerable.
4) Be alert – Many people try to ignore dental problems, but this is dangerous for those with diabetes. Patients should monitor their mouth, gums and teeth for signs that they may be developing gum disease.
"The best way for diabetic patients to deal with their extra risks is to control blood glucose, practice healthy hygiene and be aware of what is going on in their mouth," Moore said.
Contact Information:
Dr. John Moore, DDS
San Antonio Invisalign - Premiere Elite Provider
5837 Babcock Rd. San Antonio, TX 78240
Phone 210-337-6453
About Dr. Moore:
Dr. John Moore, DDS, has been practicing dentistry in San Antonio for more than 25 years, and his credits include serving as an assistant professor of dentistry at the University of Texas Health Science Center in San Antonio. He is a prolific lecturer and published writer, and has won numerous awards, including being voted into America's Top Dentists in Cosmetic Dentistry and honored as the top San Antonio Dentist in the cosmetic dentistry category.
# # #