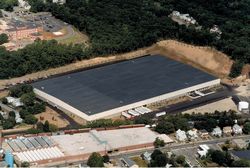 Right now, trying to get into Boston from the north, west or south of Fitchburg is a challenge
Westminster, MA (Vocus) November 4, 2010
Massachusetts Lieutenant Governor Timothy P. Murray recently joined U.S. Secretary of Transportation Ray LaHood and Congressman John Olver to announce the groundbreaking for the $55.5 million Wachusett Commuter Rail Extension Project. The project, funded by a federal stimulus Transportation Investment Generating Economic Recovery (TIGER) Grant, will extend the Fitchburg Commuter Rail Line by 4.5 miles to a brand new Wachusett commuter rail station. The project also includes track improvements to support freight and passenger rail and a new layover facility in the town of Westminster.
"Right now, trying to get into Boston from the north, west or south of Fitchburg is a challenge," said Olver. "Route 2 is gridlocked during prime commute times, and it can be difficult to find parking and to drive to some of the stations along the line. Once built, this station will be in a prime location for commuters to quickly get off Route 2 and onto a train within minutes."
The Wachusett Station will serve an estimated 400 new commuter rail passengers in 2012, and divert 824 vehicle trips from Route 2. The project is expected to improve the region's economy by reducing the commute time from communities west of Fitchburg to the Boston area job market increasing the desirability of living in the region.
Maegen N. McCaffrey, Executive Director of the Wachusett Chamber of Commerce, located in the town of Clinton, said the commuter rail extension is great for the region.
"The track improvements and new layover facility are very positive for the area and should help to bring people to and from the North Central Massachusetts area," McCaffrey said, adding that business owners in Clinton have been banding together for the past few years to beautify the town. Forming the non-profit corporation of Uptown Inc., some of Clinton's most prominent business leaders have, in conjunction with the Town of Clinton, obtained more than $800,000 in grant funds to improve the downtown area. Though the commuter rail extension does not include a stop in Clinton, McCaffrey said the regional impacts of the project will have a trickle down effect on all the towns in North Central Massachusetts.
Michael Hackman, founder and chief executive officer of Hackman Capital, says the project is good news for Hackman's state-of-the-art, 344,000 SF, multi-tenant, high-bay distribution facility located at 100 Adams Road in Clinton. He's also excited about the impact the commuter rail extension will have on tenants of Route 2 Commerce Park, a Hackman property conveniently located within a few miles of the planned layover facility.
"The entire North Central Massachusetts region will benefit from this major transportation project," Hackman said. "Less traffic and more options for getting to work make towns like Clinton and Westminster more desirable places in which to do business. We are grateful for the funding from the federal government – investing in transportation is tantamount to investing in a healthy economy."
About Adams Road Industrial Park: A 344,000 Square Foot multi-tenant, high-bay distribution facility offering 50,293 Square Foot warehouse space for lease (divisible to 25,000 SF). Highlights include 32' clear heights, wide bays and abundant loading. Strategicaly located 5 miles off I-90, and in close proximity to I-495 and I-290, 35 miles west of Boston. More info @ http://www.adamsroadindustrialpark.com.
About Route 2 Commerce Park: A state-of-the-art 658,017 SF complex, Route 2 Commerce Park offers 421,716 SF for lease and provides world-class corporate amenities, clear highway visibility, plus robust infrastructure and heavy power, all in a lush, wooded setting. Right off Route 2, 24 miles from Worcester and 53 miles from Boston, its prime location offers direct access to key markets and a strong labor pool. Higher-tech office, R&D and industrial space available--the ideal corporate headquarters. More info @ http://www.route2commercepark.com.
About Hackman Capital: We're a private real estate investment firm located in Los Angeles. We focus on commercial and industrial real estate nationwide. We currently manage on behalf of our affiliate entities a portfolio containing 56 buildings, over 750 acres of developable land, and more than 16 million square feet of real estate. We're also actively buying real estate and closing quickly. More info @ http://www.hackmancapital.com.
###