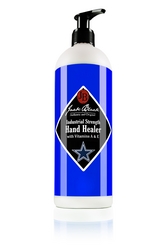 Carrollton, TX (PRWEB) November 2, 2010
Dallas based skin care company Jack Black is pleased to partner with its hometown heroes, the Dallas Cowboys, one of the top sports franchises in the world, to bring exclusive skin care and grooming products to the players and their fans.
Jack Black tested the NFL waters in 2009 though a partnership with the Miami Dolphins, but their Dallas Cowboys relationship is the first-of-its-kind, offering premium skin care products to their fans and suite holders.
The Jack Black program will offer:

Exclusive products for the luxury suite restrooms (products include best selling 16 oz Industrial Strength Hand Healer and 16 oz All-Over Wash). These products will showcase a co-branded label combining the well-known Jack Black diamond with the iconic Cowboys' star.
A range of products in the Cowboys' locker room at their practice facility. Players will have access to a number of Jack Black facial skin care and body products for use after workouts. This includes a selection of Jack Black's new Performance Remedy products formulated specifically for athletes to help enhance performance and speed recovery.
"We are thrilled about our new partnership with the Dallas Cowboys," says Patricia Finn, Director of Marketing at Jack Black. "We have had great success executing innovative, engaging programs at sporting events, effectively targeting male fans. Given that Jack Black is a Dallas-based skin care company, we look forward to exposing men and women in our hometown to our brand and our products."
A favorite of athletes and sports enthusiasts, Jack Black products are a perfect complement to the luxurious amenities offered at Cowboys Stadium.
"We are excited to partner with Jack Black in this first-of-its kind program with the Dallas Cowboys," says Jerry Jones, Jr., Chief Sales & Marketing Officer for the Dallas Cowboys. "We feel Jack Black's high-performance products will enhance the unique, upscale experience we provide our fans at Cowboys Stadium."
ABOUT JACK BLACK
Jack Black creates superior, easy to use skin care products including shaving creams, moisturizers, grooming sets, cleansers, anti-aging products, hair care, body care and sun care products. Nothing complicated, nothing cosmetic, just real solutions that provide immediate, visible results. http://www.getJackBlack.com
For additional information, please contact Danielle Rosen or Stephanie Kerman, Behrman Communications, 212-986-7000
drosen(at)behrmanpr(dot)com / skerman(at)behrmanpr(dot)com
# # #