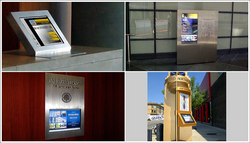 Crofton, MD (PRWEB) November 2, 2010
Interactive Touchscreen Solutions, Inc. was contracted by Beacon Partners to design, build and install a custom enclosure to house their Navigo System and match the décor at Harris Corners in Charlotte, NC.
Beacon Partners' Harris Corners property encompasses 3 Class A commercial office buildings which are home to tenants such as the corporate headquarters for ASC Construction Equipment, regional office for Bank of America Home Loans, and US Region for PGI (Premiere Global).
The existing directories in each lobby were traditional backlit strip directories with custom printed film for each tenant. Beacon Partners wanted a directory solution that would be easy to maintain with no on-going costs but also provided a modern and sophisticated look to match their décor.
Working with ITS' Project Management team, a stainless steel enclosure design with raised lettering was conceptualized. ITS installed Navigo Directory Systems in each lobby of Harris Corners to fit within the existing wall space where the strip directories resided.
The Navigo Systems create a seamless transition from drab and obsolete to customized architectural focal points. ITS installs standard enclosures such as; the free standing Future, Sophie and Classic enclosures. The standard free standing enclosures are ADA compliant. ITS also designed a standard wall mounted Vertin enclosure which can be flush or surface mounted into wall space. Enclosures may be finished in stainless steel, powder coated aluminum or laminate overlays that best suit the style of the lobby area. Enclosures may also feature high gloss finish paint.
Navigo Touchscreen Directories, Digital Signage, Wayfinding and Visitor Management solutions software is tailor-made for your building needs and the needs of your tenants, patients and guests. Each sales representative and project manager works with you through every step of the process. Specialized greetings and unique features allow direct messages to be communicated to your captive audience.
"We pride ourselves on our dedication to the common goal of making the most of your investment with Navigo. Enclosures are no exception to limitless imagination," said Natalie Bobila, Vice President, Sales & Marketing. "ITS never backs away from the vision of our clients. If you have a design in mind, we can make it happen."
Click here to view our Installation Library and see for yourself what is possible with Navigo.
Interactive Touchscreen Solutions, Inc. provides touchscreen directories and digital signage for Corporate Buildings, Hospitals, Government & Private Facilities, Universities, Museums and other Public Buildings. Interactive Touchscreen Solutions, Inc. product line, Navigo includes solutions for Wayfinding, Digital Signage and Visitor Badging/Processing. For more information on recent installations and general product information, please contact Interactive Touchscreen Solutions, Inc at (800) 652-4830.
###