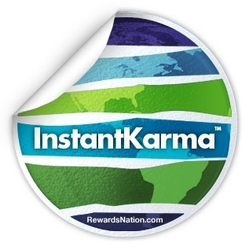 Our team quite proudly calls the InstantKarma rewards "Carrots to feed the World". It's a message that resonates powerfully with the emerging Millenial workforce.
Toronto, ON (PRWEB) November 1, 2010
Rewards Nation (rewardsnation.com) announced today the launch for its North American clients of InstantKarma™, a donation-centered employee reward module powered by Benevity Social Ventures, Inc., (http://www.benevity.org).
Benevity's microdonation and corporate matching platform are embedded within the highly popular, enterprise-class employee recognition program for a seamless user experience. Rewards Nation clients who choose the InstantKarma™ option can now promote pure recognition initiatives by rewarding participants with user-directed donations to any registered charity in Canada or the United States. Clients can empower full choice but also incent users to give to employer-sponsored charities through real-time donation matching programs offered within the InstantKarma™ tool.
"InstantKarma™ will have special appeal for organizations where policy, a unionized environment or simply personal beliefs prevent them from giving reward currency to employees for personal gain. Many employers are reluctant to adopt a full-scale employee recognition program because of the prevalent emphasis on rewards for personal gain, usually in the form of merchandise and gift cards. Until now, these organizations may have been deprived of the employee engagement and other benefits of building a strong culture of appreciation through company-sanctioned peer recognition activities", says Johane Desjardins, CEO of VIBE SMG INC., parent of Rewards Nation.
With Rewards Nation's feature-rich InstantKarma™ solution, companies can build a powerful bond with employees through recognition and social responsibility, while better leveraging existing philanthropy budgets, if they so choose. Adopting InstantKarma's Win-Win hybrid option - where the employee is celebrated with points for personal rewards plus a matching, tax-receiptable donation amount – keeps the focus on altruism, both through peer-generated recognition and charitable giving.
"Increasingly, employees are asking (if not expecting) their employers to help them give back as part of their workplace experience. At the same time, there is a growing body of research confirming the connection between employee engagement and employee or workplace giving, which impacts the metrics that matter most to employers: attraction, retention and productivity", said Bryan de Lottinville, CEO of Benevity. "In today's economy, with employee cynicism and detachment reportedly on the rise, having a cost-effective way to connect with workers around causes they care about is one key tool in the employee engagement toolkit. The Rewards Nation team is passionate about giving back, and it's great to see that translate into an innovation solution like InstantKarma™."
InstantKarma™ removes the focus on 'all about me' awards to place it more squarely on doing well by doing good. "The positive effects of the employee's performance can actually extend beyond the office walls to impact society" adds Ms. Desjardins. "It's easy to see how employees would feel greater connection and loyalty to an employer who not only recognizes but honors their positive contribution by helping support causes that resonate personally with them. It can be a very powerful employee retention booster."
The team at Rewards Nation quite proudly calls the rewards 'Carrots to feed the World.' It's a message that resonates powerfully with the emerging Millennial workforce", Desjardins concludes.
About Rewards Nation
Rewards Nation provides refreshing, unbiased and rewards-neutral online management solutions for employee recognition and sales channel reward initiatives. With a strong belief in the power of Social Motivation at Work, the Rewards Nation system engages participants in every aspect of the program to deliver exceptional results. Our team is proud to partner with authentic, progressive organizations to improve the lives of employees and associates through a positive and engaging work experience. For more information please visit rewardsnation.com
About Benevity
Benevity has developed North America's first embeddable microdonation platform, enabling socially responsible businesses to engage their customers, employees and corporate partners in optional charitable giving on their terms. Benevity lets companies integrate user-directed, tax receiptable donations and corporate matching programs into their existing transaction environments, using their own brands and systems. The Benevity platform helps companies build authentic and impactful cause marketing, workplace giving and other social responsibility initiatives that increase engagement, brand differentiation and return on social and community investment. To find out more or to request a demo, visit us at http://www.benevity.org or view our short video at http://www.benevity.org/Goodness3.0.
Rewards Nation Contact:
Johane Desjardins
CEO
johane(dot)desjardins(at)vibesmg(dot)com
416-695-8423
Benevity Contact:
Bryan de Lottinville
CEO
bryan(at)benevity(dot)org
403-237-7875 x201
# # #