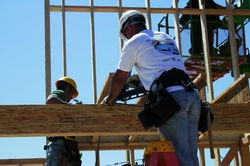 iLevel is proud to continue that tradition of innovation in the new products, software and services we offer dealers and builders today.
Federal Way, WA (PRWEB) November 2, 2010
1960 marked a key turning point in building technology with Trus Joist Corporation's invention of engineered wood products, a category of materials that has transformed wood construction. In that year, the predecessor company to today's iLevel by Weyerhaeuser began offering its patented open-web truss – a light, yet strong roof and floor component made of wood and steel. In the coming years, Trus Joist pioneered the wood I joist under the TJI® Joist brand name and developed Microllam® laminated veneer lumber, a composite lumber product that makes efficient use of raw materials for strong and stable beams. Today, these and other engineered wood products in the Trus Joist® family continue to support homes, apartments and light commercial buildings across North America. http://www.iLevel.com
"Trus Joist lived and breathed innovation," says Nate Jorgensen, Vice President of Residential Sales for iLevel. "We constantly looked for ways to build stronger, faster and better, and make more efficient use of wood resources. iLevel is proud to continue that tradition of innovation in the new products, software and services we offer dealers and builders today."
The iLevel Trus Joist brand remains a leader in engineered wood, with products including Trus Joist® TimberStrand® LSL, Trus Joist® Parallam® PSL and iLevel® Shear Brace. The company continues to make strategic investments in all of its technologies, which provides a competitive advantage. iLevel has one of the wood products industry's largest research staffs, with research and development facilities in Boise, Idaho, and Federal Way, Washington.
Today's engineered wood products provide a wide range of benefits, including high strength, availability in long lengths and resistance to warping, splitting and shrinking. As such, they help create strong, high-quality homes and buildings while making efficient use of a wider range of logs and wood fiber than was previously possible.
Note to Editors
To schedule an interview with iLevel structural frame product developers or business leaders, or to receive additional photography, please contact brandnerpr(at)brandner.com or call iLevel editor's desk at (253) 661-7333.
About iLevel by Weyerhaeuser
iLevel by Weyerhaeuser provides the building industry's most comprehensive and innovative collection of structural framing products, technical support and software for homes, multi-family and light construction. It is a leader in developing ways to help builders and dealers improve quality, reduce costs and streamline construction. iLevel's Trus Joist® brand celebrates 50 years of engineered wood product innovation, building on a legacy started in 1960. All of the engineered wood products and specialty dimension lumber iLevel manufactures are SFI® certified. In addition to its own products, iLevel also distributes a range of third-party construction and finishing materials. http://www.ilevel.com.
About Weyerhaeuser
Weyerhaeuser Company, one of the world's largest forest products companies, began operations in 1900. We grow and harvest trees, build homes and make a range of forest products essential to everyday lives. We manage our timberland on a sustainable basis in compliance with internationally recognized forestry standards. At the end of 2009, we employed approximately 14,900 employees in 10 countries. We have customers worldwide and generated $5.5 billion in sales in 2009. Additional information about us is available at http://www.weyerhaeuser.com.
###