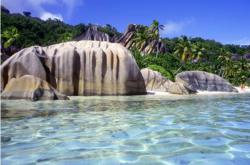 At seventeen miles long, Manzanilla Beach has enough sand to find your own secluded place to relax
New York, NY (PRWEB) November 02, 2010
Modernights is proud to announce the launch of allbestbeaches.com, a new travel guide to the 1000 best beaches in the world. Created by a group of travel writers, the site offers detailed information about a beach's location, climate and amenities.
Users can browse beaches by continent, region or "white sand beaches"; each section is complete with photos. For example, site visitors looking to check out beaches in Trinidad & Tobago can pick from four different beaches, with an in-depth description of each.
"At seventeen miles long, Manzanilla Beach has enough sand to find your own secluded place to relax," says the site about this beach located on the island's eastern coast. "This side of the island borders the Atlantic, which means that undertows are common and conditions not optimal for bathing. There's a place to purchase snacks and drinks, showers, changing rooms and a substantial car park."
Perhaps one of the most interesting features the site offers is its live web cam broadcasts of certain beaches, allowing users to witness the beach practically first hand – the current beach being broadcast is La Puntilla in the Dominican Republic.
Allbestbeaches.com also chooses its "Best Beach of the Year." This year's winner is Whitehaven Beach in Queensland, Australia.
"The sand alone is noteworthy as, at 98 percent silica, it is among the purest throughout the globe and actually squeaks a bit when walked on," reads the description. "No hotels, resorts, or amenities are offered on the beach due to its National and Marine Park status, but camping packages can be purchased and they are quite generous…camping allows for a leisurely pace and grants the ability to explore the island, as well as others nearby."
Although not yet fully functional, allbestbeaches.com will soon include a public voting portal where users can upload their beach reviews.
For more information about the best beaches in the world, please visit http://www.allbestbeaches.com
###